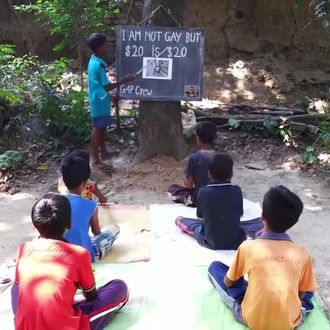 I was deep in a Vine hole when I first found out about PenorCut Enterprises. Here's scene: a group of fidgety Indian boys sit on a blanket in an outdoor schoolroom facing a blackboard with the Internet-familiar phrase "ayy lmao" written on it. At the front, a boy about the same age as the other students stands with a pointer. He taps the blackboard hanging from a nail on a tree and shouts; the class shouts back at him, as if they're learning it by rote: "Ayy lmao."
It was undeniably fascinating, if only because I had never actually heard someone say "ayy lmao" out loud. I certainly didn't expect to hear it for the first time from a group of kids in India. It was still a funny, weird example of globalized Internet culture … right?
The video came from PenorCut, a YouTube channel with almost 5.5 million views and 40,000 subscribers, that publishes videos made through Fiverr, a "sharing economy" site where users can offer their services for a variety of small tasks starting at $5. Many of the gigs are quick illustrations or logo designs, but there is also a very active community of pitchmen and voice actors.
The "ayy lmao" video is typical of PenorCut's output. It's clear that these kids don't know what they're saying. Maybe that means no one is getting hurt? But it's hard not to get the sense that for lots of viewers, the joke isn't just about the incongruity of a rural schoolroom reciting an internet meme — it's also about the power dynamic that lets rich American web surfers tell poor Indian kids what to do.
PenorCut asks YouTube users for future video suggestions and then subcontracts them through Fiverr to Latika426, who says that the kids are students at a small classroom run by his mom out of their house. When I asked him how he felt about doing the videos his response was positive. Most of the other videos they do are birthday greetings and the like. He said that he and his mom use the money to buy schoolbooks and snacks for the kids. I'll have to take his word on that.
Maybe this guy stumbled across an easy way to make more money for the kids his mother teaches. It's possible that Latika has a sense of humor in tune with American 4chan users, but somehow I doubt it. Ultimately what might be most worrying about the PenorCut videos isn't that they represent the continuation of an age-old vein of racist American humor — it's that they show the most depressing way the "sharing economy" is putting unused assets to work. Uber lets you call a car; Airbnb lets you rent an apartment; Fiverr lets you rent Indian kids for a few seconds at a time, for just five bucks. Ayy lmao.