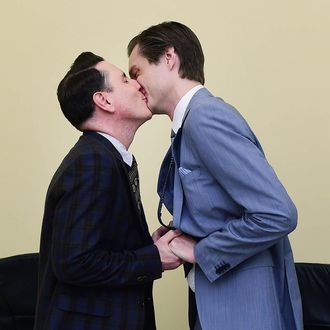 Cormac Gollogly and Richard Dowling are officially married Tuesday after being together for 12 years.
Photo: Charles McQuillan/Getty Images
In May, Ireland became the first country in the world to legalize same-sex marriage by popular vote, and Tuesday, the traditionally Catholic country started celebrating its first same-sex marriages.
Same-sex marriage officially became legal on Monday, but couples were required to give 24 hours' notice to upgrade their civil unions to legal marriages, according to the AP. Couples who haven't yet engaged in a legal union will have to wait another three months to finalize their marriages.
Cormac Gollogly and Richard Dowling, two 35-year-olds who have been together for 12 years, were the first couple to get married in Ireland under the new law.
"There's something very surreal about it, because obviously we've done the civil partnership already," Dowling told ABC News, "but it really is so nice to have the full marriage, and I'm every bit as emotional."
The Marriage Bill passed through all stages of Irish Parliament on October 22 of this year, which allowed May's historic "yes" vote to come to fruition. More than 20 countries now allow same-sex marriage, including the United States, which legalized the practice throughout all 50 states on June 26 of this year.