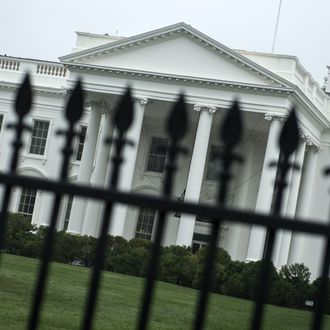 "We are not aware of any credible threat of a Paris-type attack here."
Photo: BRENDAN SMIALOWSKI/AFP/Getty Images
One day after issuing a threat against New York, ISIS militants released a new video on Thursday saying they plan to attack the White House, as well as additional targets in Europe, Reuters reports. In the video, titled "Paris Before Rome," unidentified militants threaten to "grill" French president François Hollande and U.S. president Barack Obama with suicide and car bombs.
The Department of Homeland Security has not commented on the video, but State Department spokesperson John Kirby said U.S. authorities were examining the video and taking the threat seriously. FBI director James Comey, however, said there were no signs that ISIS was planning a similar attack on American soil.
"We are not aware of any credible threat of a Paris-type attack here, and we have seen no connection at all between the Paris attackers and the United States," the New York Times quoted Comey as saying.
He added that the bureau is monitoring dozens of people in the country suspected of supporting ISIS, but after following numerous leads, it hasn't found any U.S. connection to the perpetrators of last week's terrorist attacks in Paris.