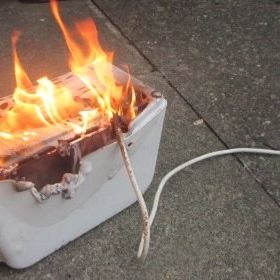 Nearly a year ago, in the Guardian, celebrity chef and food lecturer Jamie Oliver published a nifty tip for making toast, that "wonderful, humble food": "In the past," he wrote, "I have turned the toaster on its side, put cheese on bread and slid it in so it toasts on one side and melts on the other. It's a bit of a jiggle but it works."
It does work, if your goal is to nearly burn down your apartment. The Guardian quickly added a warning about the sideways toaster trick after learning that the London Fire Brigade had put out a cheesy-toast fire the year before.
Footnote: We strongly don't recommend turning your toaster on its side to make cheese on toast or anything else, as it is a fire hazard.
But in spite of the Guardian's strong non-recommendation and a handful of grievously failed attempts, the trick, which existed long before Oliver pointed it out, continues to set kitchens ablaze after spreading on Facebook as a #lifehack.
Suzanne Dale of Manchester, U.K., is the latest unfortunate soul to spark off a bread-and-cheese inferno while trying to save a little time last week.
According to the Manchester Evening News, Dale escaped disaster by throwing the blazing toaster out the window and into her garden.
"DON'T TRY THIS AT HOME… !!!" she shouted on Facebook, noting that she saw the trick on Facebook. "PLEASE SHARE.. !!… there must be other people as daft as me.. !!"
The exasperated London Fire Brigade was once again forced to issue its warning on Twitter:
Sometimes you hack life, and sometimes life hacks you.