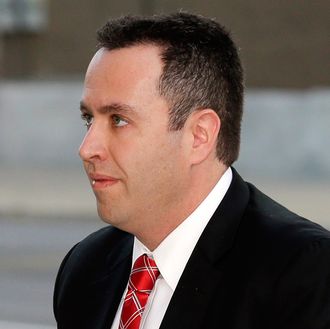 Former Subway pitchman Jared Fogle arrives at the federal courthouse in Indianapolis.
Photo: Michael Conroy/AP/Corbis
Jared Fogle was sentenced to more than 15 years in prison at a federal courthouse in Indianapolis on Thursday afternoon, and is no longer allowed to have any unsupervised visits with any children besides his own. After he is released, he will be electronically monitored. 
The former Subway pitchman was charged with paying to have sex with minors — and traveling across state lines to do so — and possessing child pornography. He accepted a plea deal in August that requires him to register as a sex offender and pay each of his 14 victims $100,000. Subway ended its long-standing relationship with Fogle, who reportedly has a net worth of around $15 million after years of touting the wondrous weight-loss powers of daily sandwiches, after federal agents raided his house in July and found at least 400 child-pornography videos. 
During the hearing, Fogle said, "I owe a huge apology to the people who supported me and my positive messages the last 15 years." According to the Indianapolis Star, he sobbed while saying,  "Not a day will go by when I don't think about what I did to [the victims]." Fogle added, "Members of my family are also victims of my acts."
At this point, the judge, U.S. District Court Judge Tanya Walton Pratt, interrupted him: "You gave your wife $7 million, so she'll be okay." The Star reports that Pratt "is widely considered the toughest judge in the Southern District in terms of prison sentences." As part of the plea deal, prosecutors promised they wouldn't ask for a sentence of more than 12 and a half years; Pratt could have sentenced him up to 50 years. As she announced the sentence, she said, "Federal judges do not sentence based on emotions or public sentiment."
According to WISH-TV, Fogle's defense team often called their client's actions "pathetic," adding, "No one wants to be Jared Fogle … Anyone with the internet or television has watched him destroy his life."
During the sentencing hearing, several psychiatrists and psychologists discussed Fogle, and a detective read some of the texts Fogle had exchanged with an underage prostitute. "How young do you think you can find?" Fogle asked. "I'll pay you big for a 14- or 15-year-old."