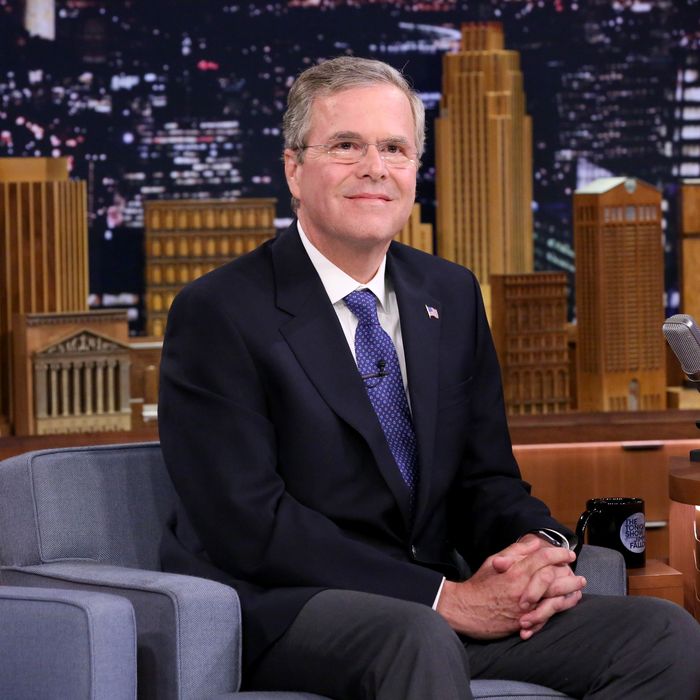 Jeb Bush on
The Tonight Show
show on June 16, 2015.
Photo: Douglas Gorenstein/NBC/NBCU Photo Bank via Getty Images
After a series of disastrous cable-news interviews and three anemic debate performances, Jeb Bush is finally getting serious about improving his television image. And to do it, he's turning to the man Roger Ailes hires to train Fox News anchors.
According to a source close to the campaign, Bush will be media-coached by Jon Kraushar, a legendary image-maker who's worked with Ailes for decades. In the 1980s, Ailes and Kraushar were business partners at Ailes Communications, the political-consulting shop Ailes founded. It was during this time that Ailes and Krashaur famously coached Jeb's father and Dan Quayle to the White House in 1988. A year later, Ailes and Kraushar collaborated on the best-selling book You Are the Message, which has become something of a Bible for public speakers and television pundits. After going their separate ways, Ailes and Kraushar remained close. Fox pundits regularly go to Kraushar for training and Ailes recommends politicians to him. During the 2012 presidential election, Ailes sent Mitt Romney's running mate, Paul Ryan, to Kraushar for help.
Bush was reluctant to improve his television style. "He was very defensive about it," one source close to the campaign told me. On the trail, Bush has been outright disdainful of the medium, telling CNN last month that Donald Trump "talks about things like he's still on The Apprentice."
But inside the campaign, Bush's poor communications skills have become a source of tension among advisers and donors. One source told me that some senior Bush aides are frustrated that he wears glasses and suits on the trail, which makes it difficult for him to relate to a large swath of GOP primary voters (or at least the Trump ones). His weight has also been an issue. Bush dropped 40 pounds on the Paleo diet in preparation for his run, but the dramatic weight loss has left him appearing uncomfortable in his new body and prone to awkward movements.
Bush has a week to learn some new tricks. The next debate is on Fox Business Network on November 10.
A spokesperson for Bush declined to respond. When reached for comment, Kraushar told me: "I don't talk about my work."