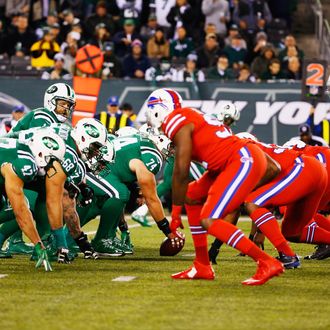 The Jets and the Bills, last night.
Photo: Al Bello/Getty Images
Last night, as part of the NFL's "Color Rush" program, the Jets and Bills faced off wearing full-body green and red uniforms, respectively. For some Thursday-night games this season, both the home and away teams will wear Nike uniforms featuring their primary color, and some observers playfully noted that last night's combination made it look like the teams were wearing Christmas pajamas. But the uniforms weren't so funny to color-blind fans who had trouble telling the teams apart.
Via ESPN, recent estimates suggest that 10 million Americans suffer from color-blindness, and that red-green color-blindness is the most common. And so without the usual contrast of dark and home jerseys (often paired with different-color pants), to many viewers at home, the game (a 22-17 Bills win) looked something like this:
Wrote NFL.com's Gregg Rosenthal, who is color-blind:
When Ryan Fitzpatrick threw his first pass of the night, it looked to me like two different Jets teammates went for the ball. Then I realized all 22 players just looked like they played for the same team. The issue in the Bills'$2 22-17 win over the Jets was exacerbated on the green playing field, especially when the camera was far from the action during live plays. (It's less of a problem on replays.)
The next "Color Rush" game will be the following Thursday, when the Titans will wear powder-blue and the Jaguars will wear gold.