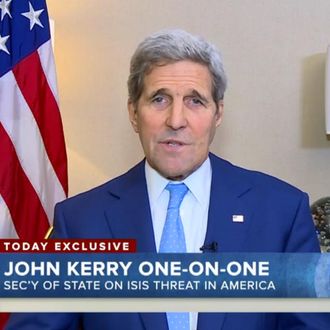 Kerry's advice: Chill out and eat some stuffing.
Photo: NBC
Eighty-three percent of Americans think a terrorist attack in the U.S. is likely to happen in the near future, according to a recent Washington Post–ABC News poll. Sixty-six percent of Americans think President Obama doesn't have a good idea of how to deal with ISIS, per a new CBS News poll. The pie chart of issues that presidential candidates discuss on the campaign trail has shifted monumentally since the Paris attacks — national security and talk of potential terror attacks now overshadows everything else.
Which is to say that many people will probably have a hard time taking Secretary of State John Kerry's advice from Monday morning to heart. "People need to not panic," he said in an interview on the Today show. "There is a strategy in place, growing by the day."
He added that ISIS is not "ten-feet-tall" and that there were no concrete threats against the U.S. right now. "Well, I can assure you that we don't have a specific threat stream or specific evidence in front of us," Kerry said, "but there is always, as we have said to people for years, the threat of some actor, some lone-wolf person, someone who slipped through. That's the world we're living in today, and we understand that."
Kerry also said he was confident that ISIS is "going to be defeated." The secretary of State is currently in the United Arab Emirates discussing how to fix the political problems in Syria as quickly as possible. 
The words "no specific threat" have been chanted regularly by officials in the past few weeks — even though the security presence at transportation hubs is likely going to be heightened during the Thanksgiving rush. The Los Angeles Times reports that U.S. officials aren't too worried about an attack on this busy travel week. After ISIS released a video featuring a few New York landmarks last week, Mayor Bill de Blasio said, "I want to encourage all New Yorkers to go about their business normally. It's important to note that there is no credible and specific threat against New York City." As the poll numbers above show, the constant attempts to calm haven't always had the intended effect; according to The Wall Street Journal, "Schools in New Jersey, Long Island and Maryland this week abandoned plans to visit Manhattan, due to safety concerns. And Penn State University canceled all nonacademic trips to the city and said other trips would be reviewed." Police Commissioner Bill Bratton told the Journal that the cancellations were "totally, totally uncalled for. This city is safe and secure and what they are doing is exactly what the terrorists want, so that is exactly what they should not be doing."
Plenty of people are sure to unconsciously follow Bratton's advice on Thursday, when millions of people are expected to go watch the Macy's Thanksgiving Day parade. Thousands of police officers will be patrolling near the parade route, according to the NYPD, and a Macy's spokesperson told Reuters, "As with any public event in New York City, security elements are extensive — from the very visible presence of law enforcement officers to wide-ranging behind-the-scenes security operations."
In the Washington, D.C., metro area, security at airports and train stations will also probably be more noticeable this week, but officials are telling travelers the same thing: "At this time, there is no specific or credible threat to the United States."
On Tuesday, French president François Hollande will visit the White House to discuss ISIS with President Obama. Although Hollande clearly will want the U.S. to make big promises about fighting ISIS, Obama has sounded a lot like John Kerry when it comes to defending the current ISIS strategy. "The strategy that we are putting forward," he told reporters last week, "is the strategy that ultimately is going to work."