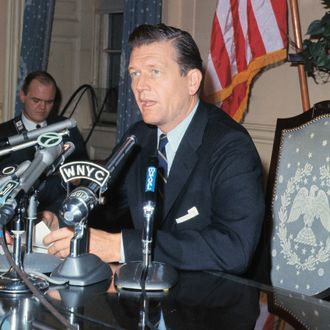 Lindsay at a press conference at the start of his first term, on January 3, 1966.
Photo: Bettmann/Corbis
When John Vliet Lindsay was elected mayor of New York, 50 years ago today, he was like no mayor we'd had for a long time. He was a Republican in a city where Tammany Democrats had lost City Hall only once since 1914. (And it had taken the superpowers of the Republican Fiorello La Guardia to make that happen.) Tall and Wasp-aristocratic handsome in a city accustomed to tough officials drawn from the big Irish, Italian, and Jewish voting blocs, he was an anomaly.
On his first day in office, the Transit Workers Union sized him up and went on strike, behind a leader, Mike Quill, who made a point of mispronouncing the mayor's name as "Lindsley." The other city unions never stopped picking fights with him. By the time he left office after two terms, the prevailing opinion was that he had been well-intentioned but ineffective, an Ivy League naïf who wasn't brutal enough for the job. As Jimmy Breslin put it so memorably in New York, maybe he had been too tall to be mayor.
The long view of Lindsay is kinder. The Tammany machine was pretty corrupt and full of patronage, and routinely ignored the needs and desires of black and Puerto Rican New Yorkers; Lindsay was comfortable reaching out to those communities, and — in the gesture for which he's most warmly remembered — made a point of walking around those neighborhoods, almost daily, talking to the locals. Black New York felt like it was being heard as never before, and rewarded him with support. On the night of Martin Luther King Jr.'s assassination, he took the most famous of those walks, through Harlem, and even Lindsay's political enemies admitted that his presence and empathy helped keep New York from burning like Newark or Baltimore. He had, as they used to say about Princess Diana, "the common touch." He would pick up litter or shoo away double-parked limousines on Park Avenue. He correctly knew that a big portion of the job is being the city's cheerleader-in-chief, and his administration supported the kinds of initiatives — from street festivals to the building of Westbeth — that are, today, embraced in city-planning circles.

Like JFK before him — in fact, Lindsay was known around City Hall as "JVL" — he had a knack for drawing the best and the brightest young staff and supporters, giving their civic-mindedness a focus that has lingered, many of them say, throughout their lives. They ended up in many careers way beyond politics, and the list of names is surprisingly broad and deep, from Jeffrey Katzenberg to Leon Panetta. Tonight, to mark the anniversary of his election, several hundred of Lindsay's aides, friends, and associates will be at Gracie Mansion, hosted by another very tall mayor with lefty ideals. (Further public events are coming up at La Guardia College, which holds the Lindsay archives.) To celebrate Lindsay (who died in 2000), his onetime chief of staff Jay Kriegel has pulled together a volume of reminiscences and recollections by more than 260 of those colleagues, including the excerpts reprinted here.
Jeffrey Katzenberg, founder and CEO of Dreamworks Animation and former CEO of Disney Studios: The summer of '65 was my best summer ever. When school let out, my education really got started. I'd like to say that I volunteered in the Lindsay campaign for the most high-minded of reasons. But the fact is that I found myself with a lot of time on my hands after being thrown out of summer camp for gambling. So I thought it would be pretty cool (not a word generally associated with the 14-year-old me) to see if I could get involved with the campaign. I was politically aware enough to already believe that John Lindsay was everything a leader should be. A liberal Republican (before that became an oxymoron), he marched to his own drummer. And so I dropped by the campaign headquarters, and life for me was never the same again.
When I finally met John Lindsay face-to-face, I was not disappointed. He filled the room with his charisma. I was too in awe at that moment to recall anything he actually said to me. But I do remember his laugh. This was a man who loved what he was doing, and it all came through in that singular from-the-gut Lindsay laugh.
Once he had moved into Gracie Mansion, I had a choice between focusing on school or on being a gofer for the mayor. Easy choice! I went on to squeak through high school, while excelling at fetching coffee and collating press releases.
Why did I do it? Other kids' heroes were named Mantle and Maris. Mine was named Lindsay. The other kids could only see their heroes from afar. I got to see mine up close, and even work for him … even if that "work" was photocopying a speech.
In many ways, my time as the short, scrawny kid in the Lindsay Administration (they actually nicknamed me Squirt) set the course of my life as the short, scrawny adult in Hollywood. I learned the supreme importance of minding the smallest details, of not accepting the bureaucratic "no," of being prompt, of returning calls, of staying focused on the big picture and, most of all, of always striving to do your very best to exceed expectations.
Now, 50 years later, I marvel at how lucky I was. To be a kid at that moment with that mayor in that city verged on the miraculous.
Thank you, John Lindsay.

Robert Shrum, political consultant and USC professor; Lindsay speechwriter: In the fall of 1970, inmates seized the city's jails, and guards were held hostage. Lindsay's staff moved into Gracie Mansion for all-night meetings. I drafted appeals to the prisoners for broadcast on the radio by the Mayor, and caught catnaps on the sofa in the first-floor ballroom.
Corrections commissioner George McGrath argued the only choice was an all-out armed assault on the prisons. Lindsay refused; he wasn't going to kill the inmates and see the guards get killed, too. Instead, he issued an ultimatum demanding the release of the hostages but promising that, as soon as that happened, he would go to the jails personally to discuss the inmates' grievances. McGrath was appalled: What if the Mayor was taken hostage or shot? Lindsay said he'd take that chance — and if it went wrong, he didn't want anyone negotiating for his release.
He was driven to the Tombs, the city's most notorious prison; he was inside from shortly after midnight until 3 a.m. As prisoners yielded at jails across the city, some force was used but with no loss of life. Then, while Lindsay was inside the Queens House of Detention, the enraged police and correction guards conducted their own riot, clubbing and kicking the surrendering inmates. The spectacle was brutal — and shocking. Afterward, Lindsay was as angry as I ever saw him, even though he had averted the kind of tragedy that a few months later left twenty-nine inmates and ten hostages dead when Governor Nelson Rockefeller ordered an all-out attack, shotguns literally blazing, in reaction to an inmate takeover of Attica State Prison.
John Lindsay had courage, both the courage of his principles and genuine physical courage.

Leon Botstein, Bard College president, musical director and principal conductor of the American Symphony Orchestra; former Sloan Urban Fellow in Lindsay's office: The Mayor gave an intimate dinner at a midtown hotel for the few Urban Fellows working in his office. I was 22 and had very little experience drinking alcohol. A colleague ordered a drink with the odd name Rob Roy. In imitation of her obviously sophisticated tastes, I ordered one. It seemed harmless and was very tasty.
By the time dinner was served, though, I was having difficulty walking. I don't remember how many Rob Roys I had consumed, but still managed to sit down. When that tipsy, one can delude oneself that nobody noticed. Much to my horror, every Fellow had to get up and give a talk about what he or she was doing in city government. As the only graduate student, I was asked to speak first. I got up, clutched the table, and thought that I was exceptionally successful at hiding my state. After all, this was my introduction to the Mayor, and I was intent on making a good impression. When I was done, I realized it would be best for me to exit the scene before anything terrible occurred.
I turned around gingerly and made my way through what I thought was a very narrow doorway, through the bar, and yet another very narrow doorway to the hallway where the bathrooms were. I thought I had inconspicuously and discreetly left the scene, feeling triumphantly that I had fooled everyone and managed to walk in a straight line to the restrooms. What I did not realize is that everyone, including the Mayor, watched this spectacular exit in silence until I vanished from sight.
The next thing I remember was that I was lying on the floor of the bathroom looking up. Standing over me was the Mayor. As I opened my eyes in a somewhat less compromised mental state, he said in a very kind voice, "I just wanted to make sure before I left that you are okay and that you'll be able to get home safely." He had come to see how I was doing. I did not have the strength to get up. I was mortified: this was my introduction to the Mayor of the City of New York and would most likely be the most memorable impression I would make on him.
I will never forget his gracious, nonjudgmental, forgiving and bemused presence. How many individuals of power and fame retain a capacity for the simple human gesture that carries no shred of self-interest?

Bob Dole, former Kansas senator and Republican presidential nominee: I went to Congress in 1961, two years after John Lindsay. He was already a standout in the Republican caucus. We shared the profound experience of serving in World War II, and we later worked together on some of the most significant legislation of our time, including the Civil Rights Act of 1964, the Voting Rights Act of 1965, and the 1965 Immigration Act.
By 1968, when I ran for the U.S. Senate, John was already a major media presence as Mayor of New York — tall, handsome, telegenic, and famous for walking the streets to maintain calm while other cities were erupting in racial conflict.
He graciously agreed to travel to Kansas to campaign for me and for my friend Rick Harmon, the great Kansas State All-American basketball star, who was then running for Governor. There was great interest in hearing this new political voice from the East, and the turnout was terrific at a Mission Hills luncheon. John didn't disappoint, and we raised what then seemed like an impressive $12,000.
While our political paths later diverged as John switched parties, he remained a compelling figure and a friend. Years later, in a speech in New York, I said that while I had never met the perfect political candidate, John Lindsay was probably the closest.

Leon Panetta, former secretary of Defense, CIA director, and White House chief of staff: As Mayor, JVL brought gifted young men and women into a municipal government whose policies had previously been shaped by the party politics of an entrenched machine. Although he ran into a wall of labor strikes and civil strife, he symbolized a new spirit of leadership. Along with such leaders as Richard Daley of Chicago and Joseph Alioto of San Francisco, he organized the nation's mayors into a powerful lobbying force.
When I lost my job in the Nixon Administration for enforcing civil rights laws that ran counter to the White House's "Southern strategy," Lindsay's Deputy Mayor Dick Aurelio offered me a job at City Hall. Dick and I had been friends since we worked in the U.S. Senate, he as administrative assistant to New York Senator Jacob Javits.
Mayor Lindsay was locked in perpetual combat with Albany and Washington. The brutal fact is that all mayors must go hat-in-hand to the state or federal government for the funding necessary to carry out their most significant initiatives. Frustrated, but ingenious, Lindsay asked me to write a memo on the potential consequences of New York City's declaring itself the 51st state. Although he relished the idea, the Mayor realized that, as a practical matter, he was stuck with Governor Rockefeller and President Nixon.
Whatever his faults, Mayor Lindsay was essential to his city's survival and renewal in its moment of great crisis. He calmed a turbulent New York while riots wracked other major municipalities. Whenever disaster struck, he was on hand, responsive to peril and acting to ensure that New Yorkers could walk their streets and enjoy their neighborhoods to the fullest, enjoying the city's unique diversity.
John Lindsay's total devotion to public service throughout his career and so memorably in his effective leadership of the greatest city in America is perhaps his greatest legacy.

Ray Kelly, former NYPD commissioner: When I was assigned to the NYPD Crime Prevention Section as a sergeant, I was charged with launching something called the Block Security Program. The department had never done anything like it before. Mayor Lindsay was planning to highlight the program in his upcoming presidential campaign as a fresh way of fighting crime. It made some sense, actually.
The Block Security Program called for local community groups to raise small amounts of money to pay for door locks, window guards, burglar alarms, security lighting, and other anti-crime measures in their neighborhoods. The city would then match — or double or triple — those funds. The concept was promising, but no one had thought about any of the practical details. That was my job. I wrote the regulations, determined who was eligible, and established how the money could be used. I even called on my artistic talents to create a logo and draw the pictures that were used in the brochure. I was the Block Security Program, and City Hall couldn't get enough of it — or me. The experience gave me my first inside look at the upper levels of city government. And here was the best part: the program actually seemed to be working.
On September 13, 1973, Mayor Lindsay traveled to Washington to testify in front of the House Judiciary Committee about this wonderful new program of his, and I went along. I didn't get to say anything, but I sat behind the Mayor in the hearing room as he testified, knowing that much of what he was touting had originated with me. Over time, I got to know Counsel to the Mayor Jay Kriegel, mayoral assistant Steve Brill, and several of Mayor Lindsay's other "whiz kids." I saw Kriegel as the de facto mayor. He was amazing, making top-level decisions at City Hall, and he wasn't much older than I was. The crew around Mayor Lindsay showed me how bright, young, energetic people could have an impact working in government. That insight was genuinely inspiring.

Steven Brill, journalist and Court TV founder: I was known around City Hall as "Jay's Jay." Although I didn't know it at the time, it was not meant as a compliment. Other than Tom Morgan referring to me as "a miniature poodle yapping at my heels" when I had the temerity to argue when he dared to edit my attempts at drafting speeches for JVL, I thought I was a nice, if ambitious, deferential kid.
In fact, I remember telling my then-fiancée, now wife, Cynthia, about the great relationship I had established with a young, tough but polite detective who had been assigned to work with me on a project I had dreamed up called the "Merchant's Protection Program." I had really developed a great camaraderie with him, I told her.
The idea for the merchants' program had grown out of the plight of my father, who owned a small liquor store on Chambers Street near City Hall. He had been held up at gunpoint several times, and — in part because I had worked behind the counter as a teen — I had a real sense of his terror and his helplessness. So I had suggested that the City do a pilot program of supplying silent hold-up alarms to small retailers. The Mayor and Jay liked the idea, and before long we were planning installations along Tremont Avenue, Astoria Boulevard, and Chambers Street, among other places.
Along with a kid from McKinsey, this young police detective and I ran the project. Again, I was sure that the detective liked me — that my people skills were as awesome as my vision for wiping out retail stick-ups.
So imagine my surprise years later when I was running Court TV and came down to the studio to thank Ray Kelly for appearing as a guest. After he finished and we walked off the set, Ray turned to me and said, "You don't remember me, do you?"
I looked at him blankly. "You're the reason I went to law school," he continued.
Huh?
Kelly went on to explain that he was the detective who had had the bad luck to be assigned to me for the hold-up alarms program. And, as he put it, "I'd come home every night and tell my wife that I was taking orders from this arrogant asshole who somehow was going to Yale Law School while working for the Mayor, and who didn't know a damn thing, but was ordering me around. I couldn't stand it."
"So my wife said," Kelly continued, "'Well, you should go to law school, too, so you don't have to put up with that.' You actually played a big role at some point in making me ambitious," Kelly added.
Nice to know I had such a positive impact on the City.

Jay Kriegel, chief of staff and special counsel to Mayor Lindsay: In my years at City Hall, I took pride in being available around-the-clock. One summer night, after I had watched the Late Show movie on Channel 2, then dozed off during the Late, Late Show, the phone rang. I bolted up to answer.
"Jay, did I wake you?" It was the Mayor, who slept little and fitfully during those long, hot summers and sometimes looked for excuses to commune.
"Of course not," I said, trying to sound alert. I glanced at the clock. It was 3:15 a.m. "I need to consult you on a very sensitive matter," the Mayor said.
Hearing the Mayor ask, "So what do you think," I realized that I'd fallen asleep again while he was talking. Caught off guard, I muttered, "Let me think it over." "Okay," he said.

Relieved to escape embarrassment, I slipped back into a deep sleep. Then the phone rang again. Bolting up a second time, I saw it was 5 a.m. "Did you think about it?" the Mayor asked. Panicked, I blurted out, "Sounds okay to me." "Good," he replied. "Let's go ahead."
After we hung up, I was gripped with guilt that I had agreed to something horrendous, like endorsing the bombing of Cambodia.
When I got to City Hall that morning, I waited anxiously outside his office. When I finally got in, I asked, "Mayor, do you remember our discussion last night?" "What discussion," he replied. "The thing we agreed to about four hours ago," I said. "I have no idea what you're talking about," he answered.
And I still have no idea either.