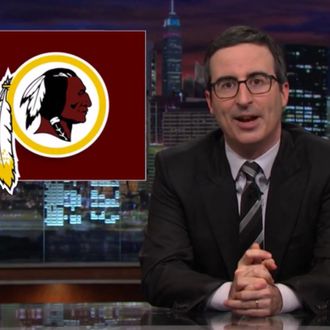 The Washington Redskins are still fighting to keep the trademark registration for their name, which many people regard as offensive, if not downright racist.
Their most recent argument? The team says its name is no more tasteless than other trademarked names like "Dick Balls" and "MILF Weed."
In July, a federal court upheld the U.S. Patent Office's decision to cancel the Washington Redskins' trademark registration because the name disparages Native Americans and therefore is not eligible for trademark protection.
Last Week Tonight's John Oliver riffed off the team's response on Sunday night. The team's lawyers argued that the government had a double standard when it came to trademarks. "The Washington Redskins pointed in their legal brief to approved trademarks such as Slutseeker dating services, Capitalism Sucks Donkey Balls, and Hot Octopuss anti-premature ejaculation creams," Oliver said. "Also cited: Edible Crotchless Gummy Panties, Dick Balls, and Klitoris with a K."
"That means the Redskins' moral defense is now essentially, 'Hey, our name is no worse than that of' — and, again, this is another real trademark cited in their case — 'the Shank the Bitch board game,'" Oliver noted. He argued against the Redskins' defense that everything is considered disparaging to someone: "A) No, it isn't, and b) that's not the fucking point! The word redskins isn't 'potentially disparaging to someone,' it is currently disparaging to specific individuals."
Redskins owner Daniel Snyder has repeatedly said that the name Redskins is meant to honor, not disparage Native Americans, but Oliver took issue with that, too.
"Intending to honor something is a lot different from actually honoring it," Oliver said. He then asked that Americans rename their fantasy football teams "Dan Snyder Is a Thin-Skinned Racist Whose Sunglasses Look Like Something a Tacky Pedophile Might Settle For" in order to honor Snyder.
"And hey, Dan, don't get upset!" Oliver said. "Everything is potentially disparaging to somebody."