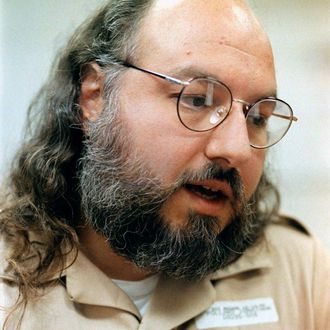 Pollard, in a photo from 1998.
Photo: Karl DeBlaker/AP/Corbis
Jonathan Pollard, the former Navy intelligence analyst sentenced to life for spying on behalf of Israel in 1987, was released on Friday after spending nearly half his life in prison. He will not, however, be allowed to leave the country until he has served five years of parole, during which time he will be monitored with an ankle bracelet.
The 61-year-old Pollard's parole date comes almost exactly three decades from his arrest on November 21, 1985. Federal law at the time mandated that inmates sentenced to life be released after 30 years unless they had seriously violated prison rules or the parole board determined that they were likely to re-offend. A federal parole panel announced in July that Pollard would be released on schedule.
During his work at the Naval Ocean Surveillance Information Center, Pollard, an Orthodox Jew, had sold Israeli intelligence officials suitcases full of classified information detailing the military capabilities of Israel's enemies. He was arrested along with his then-wife Anne Henderson Pollard after he was spotted carrying classified materials out of the building where he worked.
Pollard's lawyers have said he plans to leave North Carolina, where he is imprisoned, and spend his parole period in New York. He ultimately intends to join his second wife Esther in Jerusalem. Israel granted Pollard citizenship in 1995.
Over the years, the Israeli government repeatedly asked that Pollard be released and allowed to emigrate. Some American politicians argued for releasing Pollard as a diplomatic gesture, and there was some talk of using Pollard to mollify Israel regarding the deal over Iran's nuclear program. Top officials in the current and previous administrations were adamantly opposed to granting Pollard clemency, however, and these requests were rebuffed.