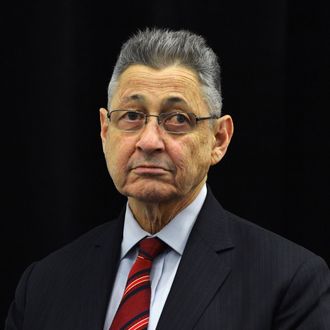 Why does no one want to spend time with me?
Photo: Slaven Vlasic/Getty Images
A juror asked to be dismissed from the Sheldon Silver trial again on Monday, leading us to believe that either the position is cursed exactly like the Defense Against the Dark Arts professorship at Hogwarts, or it's otherwise triggering a corruption-inspired allergic reaction among the people forced to listen to days of testimony about the state legislator's extracurricular activities.
Shortly after the trial began, a juror was excused after it became clear that their employer wasn't willing to pay them to be absent for weeks. A few days later, a juror asked to be dismissed after spraining her ankle — the second of four alternate jurors was used to replace her. Two hours after the jury started deliberating the case, a juror sent a letter to the judge complaining about how miserable the whole thing was making them: "I am wondering if there is anyway I can be excused from this case, because I have a different opinion/view so far in this case and it is making me feel very, very uncomfortable. I'm feeling pressured, stressed out … told that I'm not using my common sense, my heart is pounding and my head feels weird." The juror was told to stay. 
On Monday, the judge, who probably doesn't enjoy being a pen pal with jurors, received another note. This juror "no longer wish[ed] to participate as a juror on this case. I believe there is a conflict of interest that I just learned about. Thank you." The Times reports that the juror is a taxi driver and "the owner of the medallion cab he drives is a good friend of Mr. Silver's, and belongs to the same synagogue as the assemblyman." He was told to keep deliberating.
The Dean Skelos trial — another Albany corruption case — appears to be suffering from the same epidemic. Last week, a juror asked to leave early after complaining about chest pains.
It may be advisable for the state to issue a statement from the surgeon general before the next corruption trial: "WARNING: Taking part on this jury may cause low self-esteem, chest pains, sprained ankles, feelings of passive-aggressiveness toward others, and hatred toward government, and may complicate your social life."