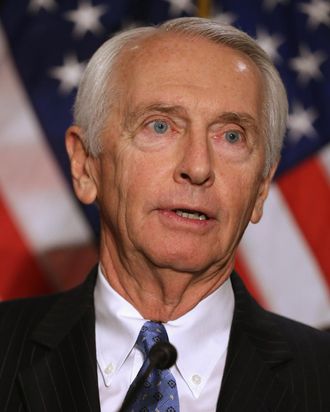 Photo: Chip Somodevilla/Getty Images
More than 1o0,000 Kentucky residents with nonviolent criminal convictions will almost immediately regain the right to vote and hold public office, thanks to an executive order issued Tuesday by Kentucky governor Steve Beshear. Beshear's order will extend these rights to certain felons who have fully served out their sentences. Sex offenders, violent criminals, and people who've been convicted of bribery or treason are excluded from the mandate.
Offenders — who have no open arrests or pending charges — will get a certificate saying their rights have been restored. The executive order is also retroactive; those who've already been released and qualify can apply to the state for their immediate "restoration of civil rights."
Before Beshear's declaration, Kentucky was one of three remaining states — Florida and Iowa being the other two — that stripped nonviolent criminals of their voting rights for good, though individual offenders could directly petition the governor to regain those rights. Convicted criminals who will not automatically have their rights restored, including those who've served for federal crimes, must still solicit the governor directly, reports WHAS 11. 
Though the laws vary among states, most re-enfranchise nonviolent convicted criminals after they've served their prison sentence and fulfilled the terms of their parole or, in some cases, probation. Kentucky had been pushing to change its law, but legislation kept getting snagged in the State Senate, where lawmakers wanted to apply a waiting period to the measure.
Beshear, a Democrat, is finishing up his third and final term as governor. A Republican — Matt Bevin — will take over next month, but according to the Courier-Journal, the governor-elect has supported the restoration of voting rights in the past.