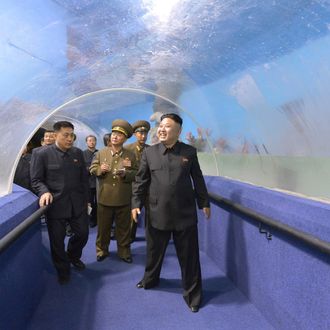 One of those people behind Kim is probably carrying a toilet.
Photo: KCNA / Reuters
If you happen to be heading to North Korea for some reason, don't try to hitch a ride with Kim Jong-un. You might end up having to sit next to his secret travel toilet. A report from Daily NK says that the leader has reportedly created a complex system that allows him to avoid ever using a public bathroom. It involves turning one car in his travel entourage in into a restroom on wheels. He has a portable bathroom when he travels in a small car. He has a toilet-to-go when he travels in the big vehicle he uses to visit military bases in the mountains. He has a mobile bathroom with him at all times. 
According to Daily NK, "Because the matter requires absolute secrecy, this can be one of the most challenging and sensitive issues for members of the Escort Command." The secrecy of the matter may be somewhat due to the fact that Kim is much less gifted in this realm of executive power than his father, Kim Jong-il, who, according to the same credible source that said he was born under a double rainbow, willed himself never to go to the bathroom at all. 
If anyone tried to use one of Kim Jong-un's secret water closets on wheels, they could be put to death. Observers are currently worried that Kim — who has executed around 70 officials since 2011, sometimes by shooting them with an anti-aircraft gun if they fall asleep during a meeting — has dispatched with another high-ranking aide who hasn't been seen in public for a while.