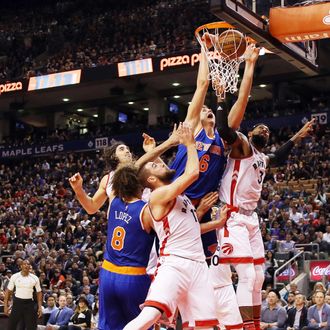 Kristaps Porzingis throws down a monster dunk against the Raptors last night.
Photo: Vaughn Ridley/Getty Images
When the Knicks drafted Kristaps Porzingis in June, most believed the 7-foot-3 Latvian was a project who would need time to get accustomed to the NBA, and might not make much of an impact as a rookie. But so far, Porzingis has started every game for the Knicks, and has begun his career in a way few would have predicted, averaging 11.8 points and 8.3 rebounds through eight games. (It's early in the season, but Magic Johnson's already declared him the steal of the draft.) Just as impressive, he's been a mainstay of NBA highlight reels with what's becoming his signature play: the monster put-back dunk.
Last night, in the Knicks' controversial win in Toronto, Porzingis threw down perhaps his sickest one yet, over multiple Raptors.
But he's been doing this sort of thing all season. Here's one from November 2 against the Spurs, over LaMarcus Aldridge:
And from two days later in Cleveland, over Kevin Love:
And from last Friday against the Bucks:
The stats back up that Porzingis is quickly mastering this particular skill:
To paraphrase the announcer Bill Raftery, keep on sending 'em in, big fella.