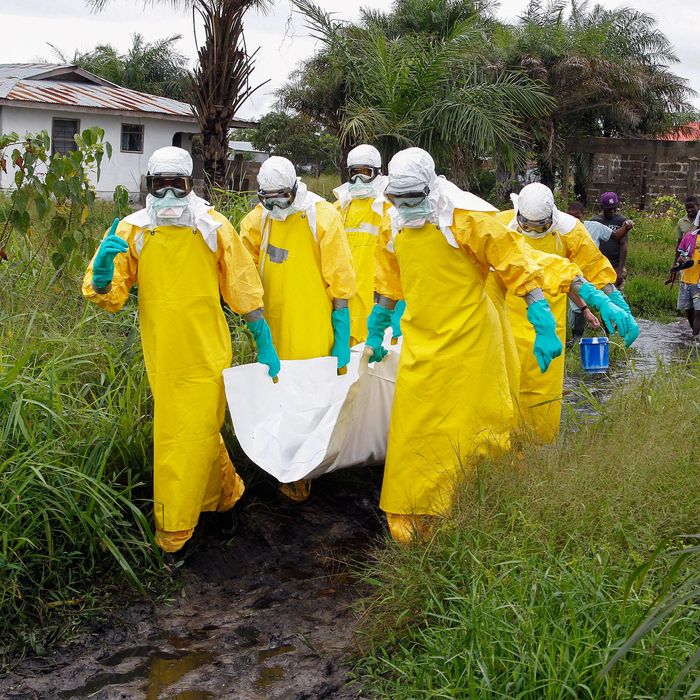 Liberian nurses carry a dead body suspected of dying from the Ebola virus on the outskirts of Monrovia, Liberia in September 2014.
Photo: Ahmed Jallanzo/epa/Corbis
A 15-year-old boy died of Ebola in Liberia late Monday night; it is the first death from the virus that the country has seen since July. Nathan Gbotoe's brother and father are also sick, and are being monitored closely. All together, health professionals fear that 153 people may have come into contact with him — ten health workers in particular are being watched for symptoms. 
No one knows how he managed to get sick. 
Liberia, which along with Guinea and Sierra Leone suffered worst from the deadly outbreak, was declared Ebola-free back in September, a period of freedom that lasted until last week, when new cases were announced. Nearly 5,000 people have died from Ebola in Liberia since December 2013.
Meanwhile, a group of 20 international Ebola experts published a report in the Lancet this week about the global response to the Ebola outbreak, which they found pitiful. The World Health Organization received special criticism for failing to label the outbreak a public-health emergency for months. The panel reached the conclusion that "the long-delayed and problematic international response to the outbreak resulted in needless suffering and death, social and economic havoc, and a loss of confidence in national and global institutions."
The report also hopes that the world sees the outbreak as an opportunity to spend far more money learning how to fight it in the future. "The AIDS pandemic put global health on the world's agenda," professor Peter Piot, one of the discoverers of Ebola, and his co-authors, note. "The Ebola crisis in West Africa should now be an equal gamechanger for how the world prevents and responds to epidemics."
A WHO spokesperson told the BBC that many of the report's "recommendations cover work that is already being done."