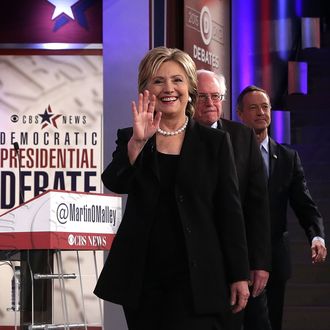 People who are less popular than MMA and college football.
Photo: Alex Wong/2015 Getty Images
With many of the Democratic presidential debates scheduled for weekend nights, no one was expecting blockbuster ratings, but apparently some campaign officials overestimated their bosses' popularity. Saturday night's CBS debate drew only 8.5 million viewers and Politico reports, "campaign staffers were surprised Sunday by the low figure."
Supposedly they were expecting numbers closer to the last Democratic debate, which drew 15.3 million viewers, though people have been complaining about the strange Democratic debate schedule for months. Democratic National Committee chairwoman Debbie Wasserman Schultz continued to defend the decision last week, telling Politico that the networks didn't want to preempt primetime TV. She also argued that the time slot might be better for some viewers, such as working moms.
But Bernie Sanders and Martin O'Malley's campaigns took the opportunity to continue their push for more a more favorable debate schedule (as it stands, there will only be four more, including one on the Saturday before Christmas and another on the Sunday before Martin Luther King Jr. Day). "We can't fool ourselves — the Republicans are eating our lunch in terms of attention and viewership because of the unprecedented, unilateral, and arbitrary way the DNC Chair determined this schedule," said Lis Smith, Martin O'Malley's deputy campaign manager. "It's clear we need to open up the process, have more debates, and engage more voters in this process."
Some allege that the schedule was set to help benefit Hillary Clinton (which Wasserman Schultz denies), and her team has only said that they'll participate in any debates the DNC sanctions.