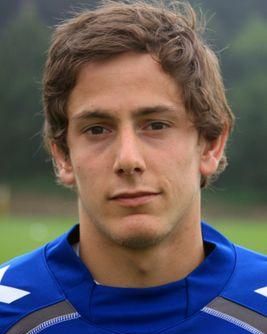 This is either a photo of Lukas Walton, billionaire heir to the Walmart fortune, or else a different Lukas Walton, who just happens to tweet about Walmart a lot.
Photo: Twitter
For years, Christy Walton, the widow of Walmart heir John T. Walton, was considered the richest woman in the world. The consensus gossip in plutocratic sewing circles was that Ms. Walton had inherited the bulk of her husband's vast estate when he perished in a plane crash ten years ago. But according to court documents obtained by Bloomberg this morning, the late Walton left half of his then-$17 billion fortune to charity, a third to his son Lukas Walton, and the rest to his wife.
Now estimates of Christy Walton's fortune have been revised down from $32 billion to a piddling $5 billion. But even as Bloomberg exposed Ms. Walton as a mere single-digit billionaire, they vaulted her son out of the huddled masses of trust-fund millionaires and into 103rd place on the list of the world's richest people.
So, what do we know about this 29-year-old whose wealth outstrips that of many island nations?
He almost died of cancer as a small child: When Lukas was 3 years old, he was diagnosed with a rare form of kidney cancer that quickly spread to his lungs. In an interview with the San Diego Tribune in 2008, Christy Walton credited her son's miraculous recovery to a plant- and herb-based diet, with all the vegetables sourced from the family's own home garden.
"I was giving Luke six glasses of juice daily — fruit or carrot. We would get organic pasta. I removed red meat and pork altogether, made my own mustard, mayo," Walton told the paper. "In five months, Luke's tumor was gone. I attribute that to a complete nutrition change."
He was raised in a city where the median income was $30,000: When your father is the 11th richest man in the world, you're not going to have a typical childhood. But Lukas spent at least a portion of his early years in the blue-collar town of National City, California, where the median income was $30,000 in the 2000 census.
"Christy had a real desire to give her child an opportunity to live in a typical American community, an experience you're not going to get in a Rancho Santa Fe," family friend Richard Kiy told the San Diego Union-Tribune. The family moved to Jackson Hole, Wyoming, after John Walton's death, and bequeathed their expansive National City home to a nonprofit.
He graduated from Colorado College with a degree in "environmentally sustainable business": Walton had to petition the board of Colorado College to create his "conscious capitalism"–flavored major, according to local press coverage of a commencement speech he gave at his former high school in 2011. Walton went on to work for the venture capital company True North Venture Partners, a firm that "traces its roots to his father's venture capital activities," according to Bloomberg.
His social-media game is not on fleek: Walton appears to maintain public profiles on both Twitter and Facebook. But his (unverified) Twitter account's stream is composed almost entirely of re-tweets, the vast majority of which are of some guy named Nate Willis. On Facebook, Walton puts up public posts on a semi-yearly basis, the latest being a photo of a boat, and a hummus-themed parody of the song "All About That Bass," titled "All About That Paste."
He is enormously powerful: John Walton's will ordered that his son be given the right to vote the estate's general and limited partner units in Walton Enterprises, a holding company that owns a 50.2 percent stake in Wal-Mart Stores Inc., the nation's largest private employer.
"There's no other public company of this size that I am aware of where a family has such a big stake," consumer research analyst Brian Yarbrough told Bloomberg.