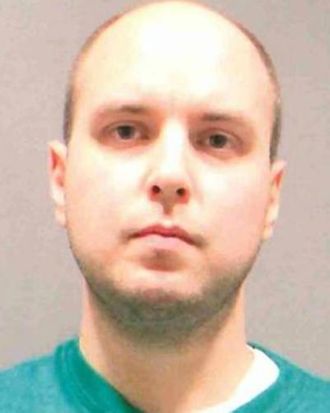 Matthew Mills.
Photo: Stratford Police Department
After completing a charity race honoring slain Sandy Hook teacher Vicki Soto last Saturday, Matthew Mills, 32, felt compelled to say something to Soto's surviving sister. But Mills hadn't come to Stratford, Connecticut, to offer condolences and support for the family of the teacher who was murdered trying to protect her students — he came to ask Jillian Soto whether a widely circulated photograph of her family was doctored as part of an elaborate conspiracy to take Americans' guns.
Mills's questioning of Soto didn't elicit any revelations, but it did get the local police to arrest him for breach of peace, according to the Connecticut Post.
"I went to the race to specifically talk to her, but I waited until the end, and I donated also," Mills, who lives in Brooklyn, later told the New York Daily News. "I try not to speculate. There are shootings all the time with no conspiracies related to them. But this conspiracy about the photo has really caught on online. …People say the rocks don't match up, the shadows don't match up."
Vicki Soto died at 27 while trying to protect her students during the school shooting that killed 20 children and six staffers in 2012.
The Sandy Hook tragedy has been the target of a number of conspiracy theories.
Mills is best known for stealing the microphone at last year's post–Super Bowl press conference, to inform Americans that "9/11 was perpetrated by people within our own government."
In his interview with the Daily News, Mills suggested he doesn't necessarily believe the same can be said about Sandy Hook. In his telling, he was just hoping to put an end to the conspiracy — apparently presuming that all Newtown "truthers" need to hear is one more denial from a victim's family member.
"I just wanted to put to rest whether these four kids were really there together on those rocks that day or not," he told the paper. "It's not for shock value."
The good news is the race raised more than $100,000.