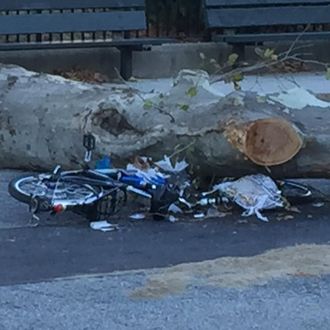 Here's a story for New Yorkers looking for a new thing to be afraid of today: A 30-year-old delivery man was badly injured after a falling tree struck him on the head in Red Hook.
According to WABC, the victim was riding his bike near Pioneer Street and Richards Street, next to Coffey Park, as workers were pruning the tree. One of them reportedly tried to signal to the man that the tree was falling, but it was too late. As a New York Daily News photographer noted on Twitter, the work area does not appear to have been roped off.
A Parks Department spokesperson told Gothamist that the incident is under investigation, adding that "safety protocols require cones, caution tape and a worker to flag approaching pedestrians." The victim is currently hospitalized in critical condition.