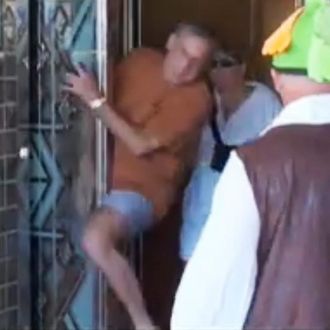 If anything in this photo is worth $21.5 million, it's the green hat.
James R. Hausman is an accomplished businessman who owns his own precious-metals shop in Springfield, Illinois. But the most profitable thing he has ever done is collide with a sliding-glass door.
In 2011, Hausman suffered a minor brain injury when he was struck in the head by a such a door while traveling aboard a Holland America cruise ship. This week, a U.S. District Court jury in Seattle compensated Hausman for his injury with $21.5 million in damages — one of the largest verdicts issued by a Washington State federal court in recent memory, according to the Seattle Times.
Hausman was able to finish out his 280-day world cruise after the glass-door incident, but his traumatic brain injury left him prone to vertigo and small seizures, according to his attorneys. While it's true that even minor brain injuries can significantly impair a person's quality of life, Hausman's huge payout had less to do with his suffering than with Holland America's alleged negligence — $16.5 million of the verdict was issued in punitive damages.
Holland America accused Hausman of carelessly "walking into" the door and claimed that the incident was anomalous. But Hausman's attorney Rick Friedman presented 16 other incidents in which passengers were assaulted by the aggressive sliding glass. Friedman argued that the door's motion sensors were set to open and close much faster than normal, as the cruise line put concerns about air-conditioning costs ahead of passenger safety.
The company has already filed an appeal, but with at least 16 other documented cases of sliding-glass assault, personal-injury lawyers are likely to keep the cruise line in troubled waters for years to come.