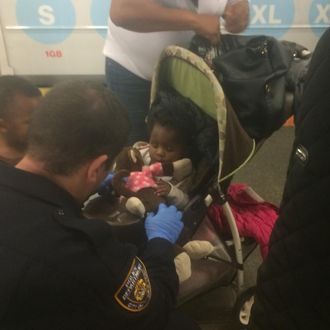 Photo: Herman Mcgarrah/Facebook
It was a city parent's worst nightmare come to life: Shacora Ferrell's baby fell out of its stroller, headfirst, into the narrow gap between train and platform at the Times Square station on Sunday evening. Two Good Samaritans were helping Ferrell lift her stroller across the wide gap between the platform and then train. Then the stroller tipped. According to witnesses, the baby, Tabrina Ferrell, fell four feet onto the tracks below. 
One of the two people helping the mother panicked and fled the scene, but the second Good Samaritan, Herman McGarrah, stepped in. He hopped onto the tracks, crawling between the train and the platform.

"When I got down there, it was dirty, I was scared, I was kind of shaking," McGarrah told the Daily News on Monday. "Once I got down there, I said 'Please God, don't let the train move.'"
The commotion on the platform got the attention of MTA officials, who held the train. McGarrah quickly reached Tabrina, boosting her back up to the platform, with only a tiny cut on her forehead. On the platform, not too long after the scare, she was smiling.
McGarrah says saving the baby was akin to saving himself —"redemption," as he put it. Bouts with homelessness and addiction dot his history, but he's here now, he says, with a purpose. "My life hasn't been in vain," he said.