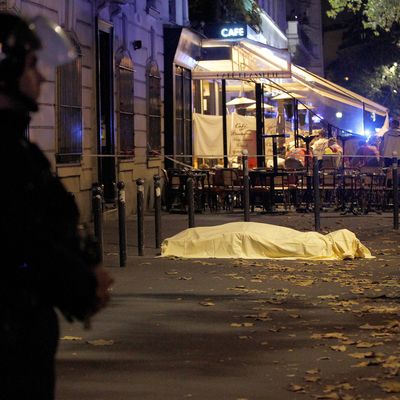 A victim's body lies covered on Boulevard des Filles du Calvaire, close to the Bataclan theater.
Photo: Thierry Chesnot/Getty Images
Six targets were attacked by shooters and suicide bombers on Friday night in Paris, and as of Saturday afternoon, the coordinated siege has left at least 129 dead and around 352 injured, including nearly 100 who may still be in critical condition. French authorities indicate that seven attackers have been killed, six by suicide bombings, and as investigators continue to determine whether the group had any accomplices, several arrests have now been made. The attacks constitute the worst violence that Paris has endured since World War II, and the deadliest act of terrorism in Europe since the 2004 bombings in Madrid. On Saturday, French president François Hollande called the attacks an "act of war" perpetrated by ISIS, vowed that France would defend itself, and announced three days of national mourning. ISIS has now officially claimed credit for the attacks as well, calling them "the first of the storm" and citing France's military strikes in Syria as the reason.
Assailants struck several sites, including popular nightspots, the largest sports stadium in France, and a sold-out concert venue:
Le Bataclan concert hall was the scene of the night's deadliest attack. When the three young, black-clad gunmen entered the sold-out venue and started firing, hundreds of spectators were about one hour into a concert by the American rock band Eagles of Death Metal. While some concertgoers managed to flee to safety after the attack began, others were killed or taken hostage and CNN reports that some texted friends and family to say they were being methodically executed inside the concert hall. According to witness accounts, for 10 to 20 minutes the assailants kept firing into the crowd, stopping to calmly reload their AK-47s as needed. Others told several sources that one of the hostage-takers yelled 'Allahu akbar' before starting to shoot concertgoers. Another witness said that one of the terrorists cited France's military intervention in Syria as a reason for the attack. While no footage inside the theater has yet emerged, The Guardian has flagged a horrifying and graphic video, shot by a Le Monde journalist who lives across the street from Le Bataclan's emergency exit, which shows panicked concertgoers rushing out of the venue past seemingly lifeless bodies as a few rounds of gunshots ring out. A few people are also seen dragging the injured down the street away from the theater.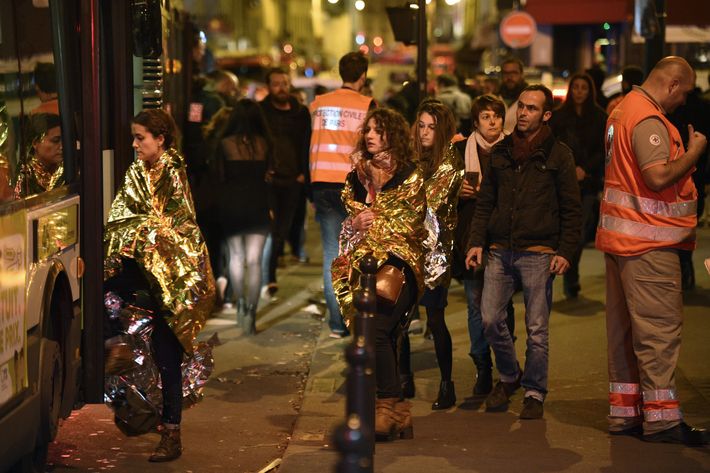 After at least a two-hour standoff, police eventually raided the building to try and rescue the hostages while explosions and shots were heard by witnesses outside. Two of the three attackers reportedly killed themselves by detonating their explosive-laden suicide belts, while another was shot by police. Following the siege, authorities learned that at least 87 people had been killed inside Le Bataclan, including some who were apparently trampled to death in the chaos.
According to the Washington Post, the band — who are from California and despite their name are not a death metal group — escaped unharmed.
The synchronized citywide attack began in the northern suburb of Saint-Denis when explosions — believed to be three suicide bombings — were triggered outside the Stade de France while a France-Germany soccer match was being played inside. President François Hollande was attending the match but was quickly evacuated. Authorities say that three people were killed in the stadium attack, which reportedly targeted one of the stadium entrances as well as a nearby McDonalds, though it's not yet known if that death total includes the bombers themselves.
Then in a surreal twist, the soccer game actually went on after the attacks: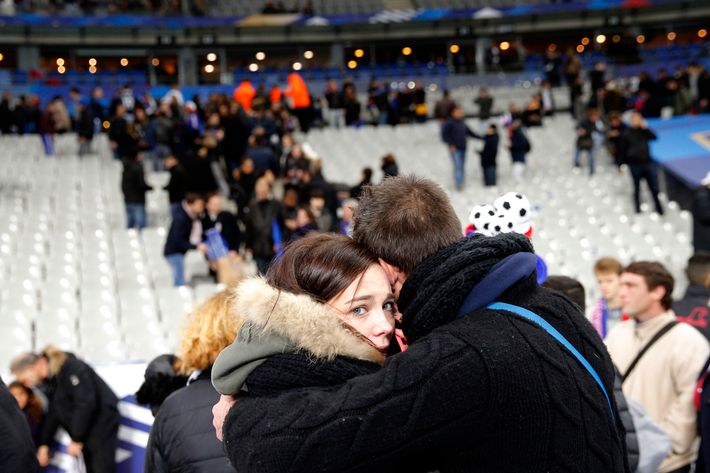 As fans were evacuated from the stadium after the game, many sang the national anthem, "La Marseillaise."
The other attacks, which happened near simultaneously, targeted cafes and busy intersections in Paris's 10th and 11th arrondissements, possibly as some attackers made their way to Le Bataclan. Gunmen shot down more than a dozen people at popular restaurants Le Petit Cambodge and Le Carillon in the 10th, not far from the former Charlie Hebdo office that was attacked in January, and at least 18 more were killed in and around the restaurant La Belle Equipe, on the corner of rue de Charonne and rue Faidherbe in the 11th. A person who witnessed one of the attacks told the BBC, "I was told people in cars had opened fire on the bar. There are lots of dead people. It's pretty horrific to be honest. I was at the back of the bar. I couldn't see anything. I heard gunshots. People dropped to the ground. We put a table over our heads to protect us. We were held up in the bar because there was a pile of bodies in front of us."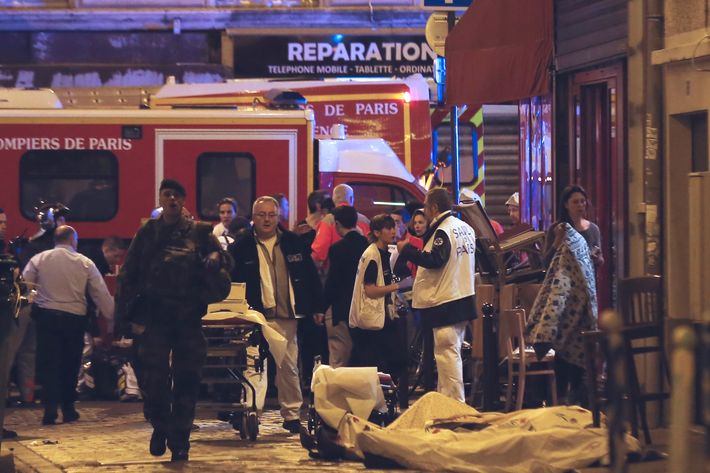 As of midday Saturday, the identities of the dead have not been made public by officials, though the U.S. State Department has announced that there were American casualties. 
Hollande, who has canceled his G20 trip to Turkey this weekend, announced on Friday night that he was declaring a state of emergency in France and would close the country's borders, though it seems that those borders have in fact remained open so far, albeit with added security checks. Around 1,500 soldiers have been deployed to Paris as well, and city residents were warned to stay home overnight Friday. All schools, universities, museums, libraries, and markets will be closed on Saturday, the metro system was shut down on Friday night, and the Eiffel Tower and other monuments have been closed until further notice. 
The French President visited the Bataclan after the police raid. "To all those who have seen these awful things," he said, according to the Guardian, "I want to say we are going to lead a war which will be pitiless."
On Saturday, President Hollande announced that ISIS was responsible for the attacks, something later confirmed by ISIS in a statement deemed credible by the SITE Intelligence Group, which tracks jihadist communications. ISIS called the attacks the "first of the storm," blamed them on France's military campaign in Syria, and added, "Let France and those who walk in its path know that they will remain on the top of the list of targets of the Islamic State." French authorities also indicated on Saturday that at least one of the attackers was a French extremist who was known by law enforcement agencies. The identities and nationalities of the other gunmen is not yet clear, though a 51-year-old Montenegrin man who was arrested in Germany on November 5 after being found in possession of firearms and explosives has now been linked to the Paris attacks.
The Paris attacks came just days after an ISIS-claimed attack on a Shiite area of Beruit which killed dozens, and less than two weeks after an ISIS affiliate claimed credit for the destruction of a Russian airliner over Egypt with 224 people aboard.
The French cabinet met at midnight Friday, and the government announced that it would start confiscating weapons or imposing house arrest on anyone considered dangerous, according to the New York Times. All public demonstrations in the Paris region have also been banned until Thursday. Charles Michel, the prime minister of Belgium — which shares a border with France — said on Friday that he will impose "frontier controls on road, rail and air arrivals from France," according to ITV. Many other European countries have also tightened their security in the wake of the Paris attacks.
President Obama gave a short statement at the White House on Friday evening. "This is a heartbreaking situation," he said, adding that "we in the U.S." know what it's like. The president said he did not yet want to speculate who was responsible for the attacks but that the U.S. was willing to help its counterterrorism ally in any way possible to "bring these terrorists to justice." He eventually spoke on the phone to President Hollande as well. Obama is scheduled to attend the UN climate change talks in Paris next month, as are many other world leaders. Numerous other heads of state, including the leaders of the U.K., Saudi Arabia, Russia, China, and Iran have all expressed their outrage over the attacks, and some, including China, have offered to work together with the French to combat terrorism.
An official told the AFP that there is no credible threat to the United States at the moment. However, New York has posted more police officers at high-traffic areas and the French consulate "out of an abundance of caution." Other U.S. cities have upped their security measures as well.
"These are heinous, evil, vile acts," Secretary of State John Kerry said in a statement. "Our embassy in Paris is making every effort to account for the welfare of American citizens in the city, and in the days ahead we stand ready to provide whatever support the French government may require. France is our oldest ally, a friend and a vital partner. We stand with the French people tonight, as our peoples have always stood together in our darkest hours. These terrorist attacks will only deepen our shared resolve."
One World Trade Center has been lit up in red, white, and blue in honor of the victims.
According to Mashable, French exchange students gathered in Union Square:
At the French Embassy in Washington, D.C., the flags are at half-staff. 
On and offline, many expressed their solidarity with Parisians by sharing a drawing that Jean Jullien, a French graphic designer, sketched after the attack and posted on Instagram:
Facebook also rolled out its Safety Check feature — which has previously been offered during hurricanes and earthquakes — for those in Paris who want to let friends and family know they are ok. 
This post has been updated throughout.