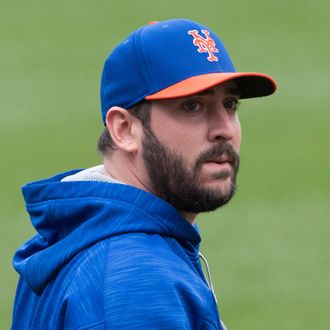 Photo: Bryan Smith/ZUMA Press/Corbis
So the Mets season comes down to Matt Harvey. Could it have been otherwise? This team and this player are bound together in high drama.
Yes, there have been plenty of other vivid chapters to the 2015 Mets season. The fast start; David Wright's prolonged absence and stirring return from back problems; the anemic middle months, typified by John Mayberry Jr. as cleanup hitter, followed by the startling late summer surge led by Yoenis Cespedes; the emergence of emergency closer Jeurys Familia; the pivotal non-trade of tearful Wilmer Flores.
But this year began as it is ending, with Harvey's climb to the pitcher's mound the biggest story. In 2013 Harvey, basically a rookie, had electrified the city with a run of double-digit strikeout games. Sports Illustrated's Tom Verducci tagged him with the nickname "Dark Knight" because Harvey seemed to be rescuing the moribund Mets franchise, if not all of Gotham. He wasn't just a great young pitcher — he was a budding post-Derek Jeter star, posing nearly naked for ESPN the Magazine and hitting the clubs with his supermodel girlfriend. 
Then came the heartbreak of a torn right elbow ligament — but instead of docilely submitting to Tommy John surgery, Harvey agonized publicly over the decision before going under the knife. Then tweeted a photo of himself flipping the bird in his hospital room. Then argued with the team of about where he would do his rehab. Then tried to force his way back onto the roster last September, ahead of schedule. 
"I said, 'Shut the hell up,'" Mets manager Terry Collins told me last spring. "This guy has one of the best competitive makeups I've ever seen. He wanted to show everybody in baseball you can come back before 12 months if you have Tommy John. I told him, 'Matt, I hear you, I get what you're saying. But shut up — you're not pitching. I applaud you. I think the world of you. You're not pitching.'"
That caution seemed brilliant when Harvey rocketed out of the gate this spring. And for most of the summer, even as his pitching went through a lull, things stayed remarkably quiet around Harvey. It couldn't last, of course. Harvey told me in March that the media has it wrong — that he doesn't crave the spotlight. But there are people who are nevertheless magnets for attention, and he is one of them. So in September, with the Mets chasing their first division pennant in nine years, Harvey's agent, Scott Boras, stoked a public fight with Mets management over how many innings his client should pitch this season. Harvey generated even more tabloid criticism — and stimulated a fascinating debate about the conflicting best interests of pro athletes and their employers — by waffling on what he wanted to do, before declaring he'd pitch as much as necessary in the playoffs. Then he overslept, or something, and missed the Mets first workout before the playoffs began.
Tonight, with the Royals up three games to one in the World Series, Harvey takes the mound merely trying to keep the Mets' season alive. Even during the spat about how much he should or shouldn't pitch, it seemed somehow inevitable that this is where Harvey and the Mets would end up: with everyone watching and everything on the line.
"There's nothing better than being in a tough situation and getting out of it on the mound in front of everybody, especially at home," Harvey told me months ago, envisioning a high-pressure spot much like the one he'll face at Citi Field tonight. "I don't get too excited that much, but coming out from a good inning, or after your team just scored and you shut them down, and you're winning 2-0 or 1-0 and you struck the last guy out, and the place goes crazy — that's a dream you can't draw up as a kid. It could be the best feeling ever. I can't wait."