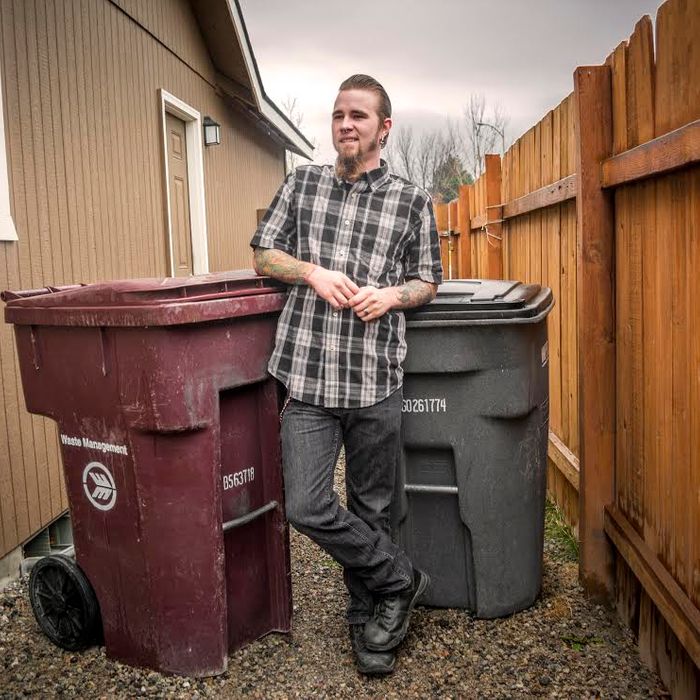 Embedded below this paragraph is a masterpiece of garbage-truck YouTube: "Garbage Trucks: On Route, In Action!" It's the work of the 21-year-old man pictured above: Bryn Erdman. Opening with a heavy-metal guitar riff (written and recorded by Erdman), the video features a 19-minute compilation (shot by Erdman) of the front loaders, side loaders. and curb-sort recyclers that manage waste throughout the Pacific Northwest. The video has been viewed over 1.8 million times — no surprise, as it was created after multiple fan requests. The reviews in the comments are rapturous: "This is the kind of video which dominates all the other garbage truck videos out there; it's a king production," says MitchellM15. "Well this was a joy. thanks for finally uploading one of the WM Portland recycling Labries!!" writes Trashman242.
I may not have the same level of connoisseurship as Trashman242, but I am certainly thankful for Erdman's videos. I first came to his channel, Thrash 'N' Trash, by way of my now-2-year-old son, whose fascination with the weekly appearance of our neighborhood trash truck needed to be supplemented with the kind of on-demand trash-truck action I figured I might find on YouTube. And it completely won me over after he quietly watched "Garbage Trucks: On Route, In Action!" on a loop for the better part of a transatlantic flight this summer.
Through his Thrash 'N' Trash oeuvre, Erdman has managed to tap into the dual veins that circulate contentment through a family home: toddlers' utter fascination with trash trucks, and their parents' equally enthusiastic desire to pacify their kids with inoffensive content. For my preschool-age viewer, the footage represents a greatest-hits montage of the machines that enthrall him. For a parent like me, the video is a mesmerizing and oddly soothing tour of the various nondescript residential communities sprawled across the region, each distinguishable only by the colors of its curbside trash barrels and their adjacent lawns.
In midsummer 2008, at the same time that a 14-year-old Justin Bieber was uploading videos of himself singing to his YouTube account, Erdman, also 14, was uploading amateur videos, under the username TrashMonkey22, that featured play-by-play footage of local garbage trucks on route, set to soundtracks of heavy-metal hits by the likes of Black Sabbath and the extreme metal band Carcass.
Seven years later, Bieber is an international pop sensation at age 21. But Erdman — now a young husband and new father, residing in southwestern Washington — embodies a more attainable though no less admirable version of the 2015 American dream. His YouTube channel Thrash 'N' Trash Productions, so named for the thrash metal that Erdman favors, has recently begun to generate enough income through ad revenue for him to turn his full professional attention to documenting waste management.
Nobody is more surprised than Erdman himself, who joined YouTube as a mere garbage hobbyist. "When I first started my channel," he told me, "I never expected it to be even remotely life changing."
Now with a total of more than 31 million views across the over 300 videos he has produced since 2008, the channel has not only allowed him to provide a modest living for his young family but also made him a major player in the greater garbage-truck YouTube genre, where documenting the collection, transportation, and disposal of garbage is no casual business. Erdman has invested thousands of dollars into the equipment needed to achieve the professional-level production value his videos have come to be known for. This, in addition to the time and resources he has dedicated to necessary travel. He also meticulously hand-builds customized model garbage trucks to feature in the popular videos he creates for fans of miniatures, one of which has earned nearly 6 million views.
I, and the parents of many preschoolers, will tell you that Thrash 'N' Trash can be a lifesaver in situations like long plane rides. But Erdman's audience isn't only toddlers and their relieved parents. While small children make up a large part of the audience for Thrash 'N' Trash and its peers, Erdman was happy to tell me that plenty of clicks come from the sizable community he refers to as "online trash enthusiasts." That is, retired and current waste-industry workers, as well as foreign viewers curious about U.S. garbage collection methods.
And watching "Garbage Trucks: On Route, In Action!" you can see why his videos are so beloved by garbage-truck enthusiasts of all ages: Erdman has a gift for clean framing and well-lit staging. Unlike most of the other highly viewed channels of garbage-truck YouTube, which are produced by companies looking to exploit young children's well-documented obsession with garbage trucks, Erdman's Thrash 'n' Trash comes from an authentic love of garbage trucks, one that you can almost sense in his videos. ("Some of my earliest childhood memories are of sitting with my face glued to the front window, sometimes for hours on end, eagerly waiting for the garbage truck to roll down my street," he writes on his Flickr page.) Like a great natural photographer or documentarian, he knows that his cinematography should only ever serve his subject; he lets his camera gape at the trucks in long, static, lingering takes.
While so many videos that find their way to popularity on YouTube will see their rise, their peak, their attendant spinoffs, and finally, their descent from public consciousness all within the space of a week,  garbage-truck content is satisfyingly evergreen. And to consider that Bryn Erdman has been cultivating the same online brand since he was a teenager, dedicating himself to the singular task of documenting waste collection with a heavy-metal twist, is to behold an impressively masterful handling of the niche internet.
Still, Erdman isn't resting on his archives. By now he has filmed garbage trucks on route in Washington, Oregon, California, and Idaho, but he told me about his big dreams: "My ultimate goal is to film garbage trucks in all 50 states!"
Until that dream is realized, he will continue to chase rare footage of local trucks, like the elusive commercial front loader that he caught earlier this month "slamming back some dumpsters around town," much to the delight of his fans. These are the people he braves all climates and shooting conditions for — the garbage enthusiasts of all ages who harbor what even Erdman admits is a "rather unique interest" in waste management.