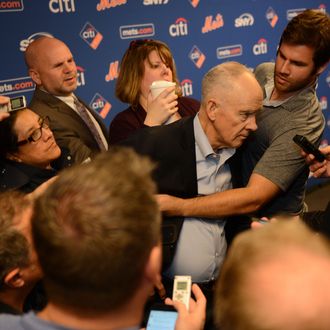 Sandy Alderson.
Photo: Andrew Savulich/NY Daily News via Getty Images
After a media event today to officially announce a two-year contract extension for manager Terry Collins, Mets GM Sandy Alderson collapsed while speaking with a group of reporters. Alderson was answering additional questions following the formal portion of the press conference when he suddenly went quiet after a question about Juan Lagares's health and started to lose his balance. Reporters helped him to the ground, and he stayed there for about 30 seconds before he was given water and helped back up.
Sitting in a chair, Alderson, 67, said with a smile, "Where were we?" but reporters didn't ask any further questions, and the GM was led away to be examined by team trainers. The team said Alderson had skipped breakfast and became light-headed while speaking under the hot TV lights. A team source told the Times that 20 minues after the incident, Alderson was eating and his condition had improved.
And if you're wondering, yes, one of the local tabloids went there, just days after a frustrating end to the World Series. Wrote the Daily News: "First his team collapsed. Then the architect of the Mets' improbable World Series run also went down for the count."