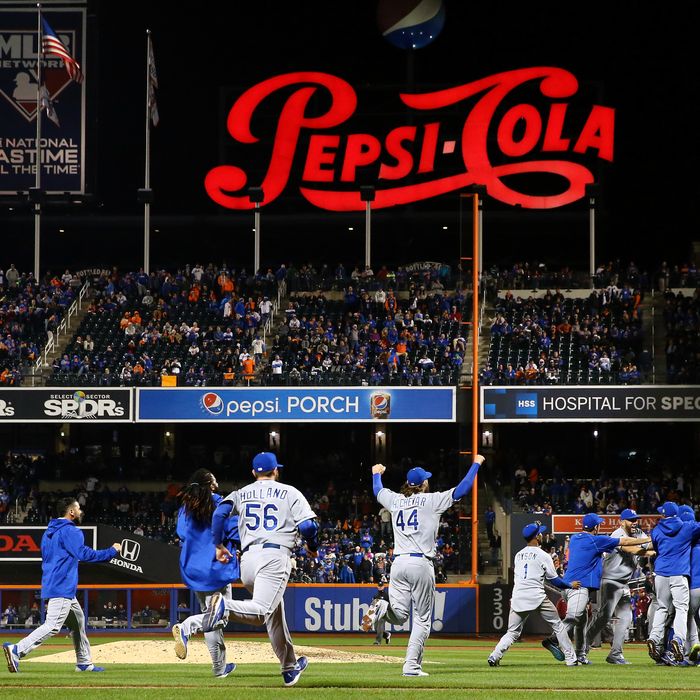 The Royals celebrate their World Series championship.
Photo: Al Bello/2015 Getty Images
Matt Harvey emerged from the dugout for the ninth inning of Game 5 of the World Series to a huge roar from the Citi Field crowd. The Mets ace had already pitched eight marvelous innings, and had talked manager Terry Collins into leaving him in to start the inning, much to the delight of fans who wanted three more outs from Harvey to send the series back to Kansas City for Game 6. But the 2015 World Series was about to take a final, disastrous turn for the Mets. Because after a stumble by Harvey, some questionable managing, some ballsy base-running, and one terrible Lucas Duda throw home, the Royals had once again rallied to tie the game, stunning the home crowd. Three innings later, the Royals finished the job, scoring five runs in the 12th to end the Mets' season and capture their first World Series title in 30 years. For the Mets and their fans, what had once been a dream postseason, ended with one final nightmare.
For eight innings, Harvey was every bit the ace the Mets expect him to be. He'd allowed no runs on four hits, and struck out nine against a Royals team that (as you may have heard a few hundred times during this series) struck out less than any club in the majors this year. But he'd also thrown 102 pitches, and Terry Collins had a decision to make: Bring in his closer, Jeurys Familia, or send Harvey out for the ninth. Fox cameras caught pitching coach Dan Warthen appearing to deliver bad news to Harvey, and then followed the righty as he made his case to Collins. Harvey's lips were easy to read: "No way."
And so when the bottom of the eighth ended, the Citi Field crowd exploded when it became clear that Harvey had indeed convinced Collins to leave him in the game. But the mood would soon change: Harvey walked Lorenzo Cain to lead off the inning, and Collins stuck with the righty. Cain then stole second, and Harvey allowed a double to Eric Hosmer that ended his night for real this time.
Familia entered the game and got Mike Moustakas to ground out, advancing Hosmer to third. Then came the ground ball that will haunt Mets fans all winter long. Salvador Perez hit a ground ball to third, which was fielded by David Wright, who looked at Hosmer to freeze him before throwing to first. But Hosmer took a chance and broke for home when Wright threw to first, and it paid off: Lucas Duda's throw was way off line, and the Royals, who'd already trailed late in two of their three wins, had come back once again.
The play at the plate could have been the final out of the game, and if you're wondering, it sure looked like a good throw would have gotten him:
Familia was credited with his third blown save of the series when that run scored, but this one really wasn't his fault. He faced three batters and got all three to ground out, but gets credited with a blown save because the runner he inherited came around to score the tying run.
The NLCS against the Cubs had gone so well for the Mets, a franchise not exactly used to things going their way. But the World Series was a mess for them in so many ways, from defensive miscues to blown leads to defensive miscues that contributed to blown leads. It would finally end in the 12th, when pinch-hitter Christian Colon, in his first at-bat of the postseason, singled in the go-ahead run. The Royals would add four more runs for good measure, and Wade Davis closed out the 7-2 Kansas City win in the bottom half of the inning, striking out Wilmer Flores for the final out.
After the game, Fox caught up with Collins, who talked about sending Harvey out for ninth, and how he prides himself on how he trusts his players:
"This kid, who has had a tough year, he looked me in the eye and said 'I've gotta have this game. I want this game.' And for what he's been through and what he's trying to accomplish, I said, 'Go out there and get the job done.' It just didn't happen, so certainly I'm gonna second-guess myself for a long time."
This wasn't how Mets fans had hoped the night would go. Curtis Granderson hit a lead-off homer in the first inning, and for a while, Game 5 had a "Here's your run" feeling to it. Royals starter Edinson Volquez, back with the team after attending his father's funeral in the Dominican Republic, was damn good as well, allowing just two hits in six innings of work. In addition to the Granderson homer, he'd give up a run in the sixth, but considering the Mets loaded the bases with none out in that inning, allowing just the one insurance run (on a sacrifice fly) wasn't bad at all.  (It probably helped Volquez that Collins allowed Yoenis Céspedes to finish his at-bat with none out and the bases full after fouling a ball off his knee, even though he could barely walk. He popped out before being replaced in the field by Juan Lagares.)
The ninth inning on Sunday night will be just one of many from this series that Mets fans replay in their minds during the off-season. The series ended in a five-game Royals victory, but the Mets came agonizingly close in three of their four losses, blowing late leads in Game 1, 4, and 5. In some ways, it brought to mind the 2000 World Series, another five-game series that was closer than it looked and also ended with the visiting team celebrating on the field in Queens. And so for Mets fans, as incredible and unlikely as their team's postseason run has been, losing like this can't help but sting.