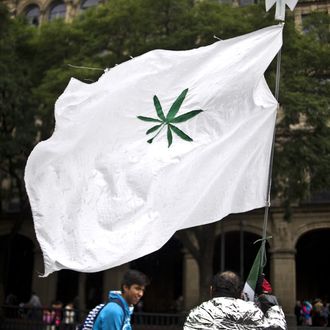 Mexican residents won't be raising this flag any time soon.
Photo: Yuri Cortez/AFP/Getty Images
The criminal chamber of the Mexican Supreme Court ruled that recreational marijuana is a legal right — a decision that could lead the country to fully legalize pot in the future.
The attempt to scale down the country's strict drug laws — responsible for reportedly putting nearly 60 percent of the population behind bars — is largely symbolic. It's not exactly a reform that citizens are clamoring for either. Only 2 percent of the population admitted to using the substance in a 2011 survey. Still, the ruling will immediately open preexisting criminal laws to legal challenges.
For Mexico's standing drug laws to be fully reversed, the criminal chamber will need to establish a precedent by making at least five additional rulings in favor of decriminalization — the same process that led to same-sex marriage in the country. As one expert told the Financial Times, "Maybe it's the beginning, but the end may not be that close." Today's ruling only applies to a single group eager to form a pot club. 
The shift south of the border comes as the United States continues to evolve on its own drug policies in an attempt to curtail a similarly costly drug war. As more and more states move to decriminalize marijuana, which is predominately supplied by Mexican cartels, advocates in Mexico feel the drug war is disproportionately affecting its own residents. A majority of Mexicans are opposed to legalizing the drug, associating usage with the mass violence unleashed by cartels. Even medical marijuana has failed to gain any traction in the legal system or the public's opinion. The Catholic Church, a dominant social force in the country, is obviously opposed to decriminalization, as is the Mexican government.   
There is no evidence that decriminalizing pot would shrink the power of the cartels or stop drug-related violence, but as one professor told the New York Times, "The existing laws don't reduce violence, either."