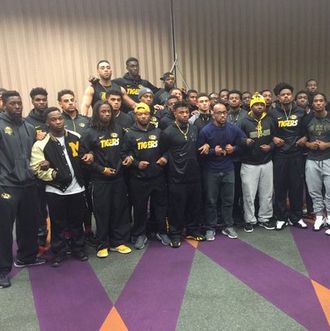 Said one player, "We REALLY want to play. But some of us feel this could be one of the most important things we ever do."
Photo: @1Sherrils_2MIZZ/Twitter
University of Missouri president Tim Wolfe resigned on Monday morning. He announced his decision, which was made after protesters concerned about racism began calling for his removal and tensions at the school began to get national attention, at an emergency meeting held by the university system's Board of Curators.
The room was packed when he resigned, according to the New York Times, and many seemed surprised by the announcement. "Use my resignation to heal and start talking again," he said. "My motivation in making this decision comes from love," he added. "I love M.U. Columbia, where I grew up, and state of Missouri. I have thought and prayed about this decision. It's the right thing to do."
Outside on the quad, the gathered protesters cheered.
A few hours later, R. Bowen Loftin, chancellor of the school's Columbia campus, announced that he, too, was stepping down and transitioning into a "new role where I will work with many people across the university and with the system to advance our mission," according to the St. Louis Post-Dispatch. Starting next year, Loftin will be director of research facility development. Nine deans called for Loftin to be removed on Monday. The group wrote a letter to the Board of Curators, according to the Columbia Daily Tribune, accusing Loftin of creating a "toxic environment through threat, fear and intimidation."
A group of more than 30 University of Missouri–Columbia (Mizzou) football players announced on Saturday night that they will boycott all games and practices until university president Wolfe either resigned or was fired over his handling of race issues at the school. SB Nation notes that the black Mizzou players are joining an already-existing protest that has accused Wolfe of negligence toward minorities and an overall inadequate response to a series of racially motivated incidents in recent months at the mostly white school, including the continued use of racial slurs by white students and a swastika painted in feces that was discovered on a dorm wall on October 24.
According to the Washington Post, a black graduate student at the university, Jonathan Butler, began a hunger strike last week, also demanding the removal of Wolfe. Bulter, who was active in the Ferguson protests and then subsequently continued similar activist work at Mizzou, explained his hunger strike thusly: "I already feel like campus is an unlivable space. So it's worth sacrificing something of this grave amount, because I'm already not wanted here. I'm already not treated like I'm a human." Wolfe and other officials at the school have acknowledged and decried the presence of racism on campus, and at least one white student who shouted the N-word at black students on campus was identified and apparently removed from the school, but many students, particularly students of color, have accused the president of not acting quickly enough or doing enough overall to ensure their saftey and deal with systemic racism at the school. On Friday, Wolfe met with Butler and other students from the protests, who call themselves the Concerned Student 1950 movement (named after the year black students were first allowed to attend the university), but the meeting did not seem to affect the group's stance. (Read through the demands they announced on October 20 here.)
On Monday, Butler tweeted that the hunger strike was over. 
Regarding the players' strike, they already seem to have the full support of their teammates and coaches, regardless of race, as coach Gary Pinkel indicated Sunday via Twitter:
Mizzou's next football game is scheduled for Saturday; one player told a Missourian reporter on Monday that the team is "for sure playing."
Many faculty members had canceled classes on Monday and were taking part in a "teach-in," which had been endorsed by the undergraduate student association.
Seven percent of the 35,000 students in the University of Missouri system are black, per the Post-Dispatch. 
According to NBC News, Missouri governor Jay Nixon also responded to the issue on Sunday, emphasizing that "racism and intolerance have no place at the Univeristy of Missouri or anywhere in our state" and declaring that "these concerns must be addressed to ensure the University of Missouri is a place where all students can pursue their dreams in an environment of respect, tolerance and inclusion." Missouri senator Claire McCaskill told CNN on Monday, "I'm proud of the young people on this campus have decided they're going to make a stand. I really believe that good things are going to come from this because of the passion and commitment from the young people."
In a statement released Sunday, Mizzou president Wolfe said that his administration "has been meeting around the clock and has been doing a tremendous amount of reflection on how to address these complex matters." He also insisted that plans were already under way to address most of Concerned Student 1950's demands, and that he and his staff "are confident that we can come together to improve the student experience on our campuses."
"Why did we get to this very difficult situation?" Wolfe added during his brief resignation address. "It is my belief we stopped listening to each other. We didn't respond or react. Change comes from listening, learning, caring, and conversation. We have to respect each other enough to stop yelling at each other and start listening, and quit intimidating each other through either our role or whatever means that we decide to use. Unfortunately, this has is not happened and that is why I stand before you today and I take full responsibility for this frustration and I take full responsibility for inaction that has occurred."
This post has been updated throughout.