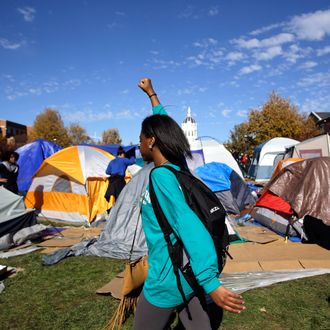 A woman passes a tent encampment set up by student protesters following an announcement that University of Missouri System president Tim Wolfe would be resigning.
Photo: Jeff Roberson/AP/Corbis
Students and faculty awoke to an email Tuesday morning from the University of Missouri Police Department telling them if they witness "hateful and/or hurtful speech or actions," they should report the incident to the authorities immediately, the St. Louis Post-Dispatch reports.
Police asked individuals to provide a description of the offender, their location, license-plate number, and even a photo, if possible.
Officials made sure to note that, while hateful and hurtful speech aren't crimes, the university's Office of Student Conduct would be notified and take action. But social media is already abuzz with people wondering what, exactly, constitutes "hurtful" speech, and columnists have begun penning their opposition to the idea, saying it would discourage free speech and debate.
The email comes one day after Mizzou president Tim Wolfe, along with chancellor of the campus R. Bowen Loftin, announced they were stepping down from their positions in response to several weeks of heated protests.
Early last week, one graduate student began a hunger strike advocating for the termination of the administrators, and by Saturday, the football team had joined the protests as well. Students and faculty claimed the university was negligent in dealing with recent incidents of racism on campus, including a series of racial slurs by white students and a swastika drawn with feces on a dorm wall in late October. 
The university has also announced the appointment of law professor Chuck Henson as interim vice-chancellor for inclusion, diversity, and equity.