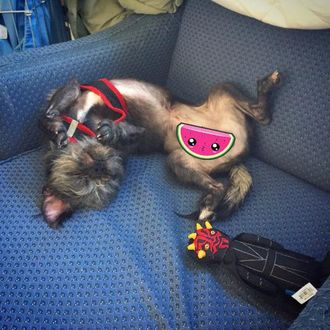 While it's very cute when dogs just flop around everywhere looking for a tummy rub, have you ever noticed how often they end up displaying their bathing-suit parts (so to speak) for the world to see? Has this shameful exposure infected your friends' Instagrams of their pets? Losing followers because of your dog's dick? Don't worry, here's a pro tip: Emoji stickers can help preserve your dog's modesty.
Writer and podcast host Jaime Green recently adopted a Brussels Griffon–Shih Tzu mix and named him Hercules Mulligan (see Hamilton). She was snapping photos of Mulligan one day when something struck her. "I realized how attention-grabbing the dog's wiener is in pictures," she says. The solution was an app called Kawaii Photo Booth, which is usually used to add cutesy stickers to selfies, but in this case acts as a helpful censor. 
Sometimes Hercules has a skull over his junk. Other times it's a heart. A happy watermelon makes a great modesty patch! "There I wanted to cover his whole package, so I needed something long," Green says. "I like a sense of personality in the sticker." 
Has p.c. culture gone too far?! Instagram is notoriously stringent about nudity, and while its terms of service don't explicitly forbid dog genitalia (as opposed to human nipples), you can't blame pet owners for being cautious. Plus, there's a tradition involved: Green's inspiration for the sticker came from the old-school blogger Dooce, who always censored her dogs. 
It's not just any emoji that's appropriate for covering up, however. Green says the symbolism has to be carefully considered. "I've been avoiding things that are explicitly phallic. Like, I'd never use a banana. That's too much." 
There's a whole world of sticker-censored dogs out there. Check out the #modestdog hashtag on Instagram, where pet owners flaunt their sticker usage. Juno the corgi sports a star, though the pup clearly couldn't care less.