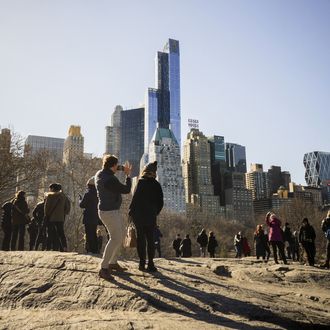 Ah, how the skyline has been enriched by these glass towers full of million-dollar apartments where no one lives!
Photo: Richard Levine/Demotix/Corbis
There's never been a better time to rent in Manhattan — if you want to pay the purchase price of a new car to your landlord every month.
An analysis of exclusive listings on the site On-Line Residential* conducted by The Real Deal found that there are more rentals priced at $15,000 a month and above than $2,000 a month and below. But before you start calculating how much it would cost to commute from Binghamton, there was one bit of hope for bargain hunters in the real-estate magazine's report: The Upper East Side has a surprisingly large number of affordable apartments — more renting at $2,000 or less than all of the neighborhoods south of Central Park combined. Just don't expect any of those apartments to be within a 15-minute walk of a functioning subway stop.
*Original version of this piece suggested that the analysis was of all publicly listed apartments, not the units exclusively listed by this service.