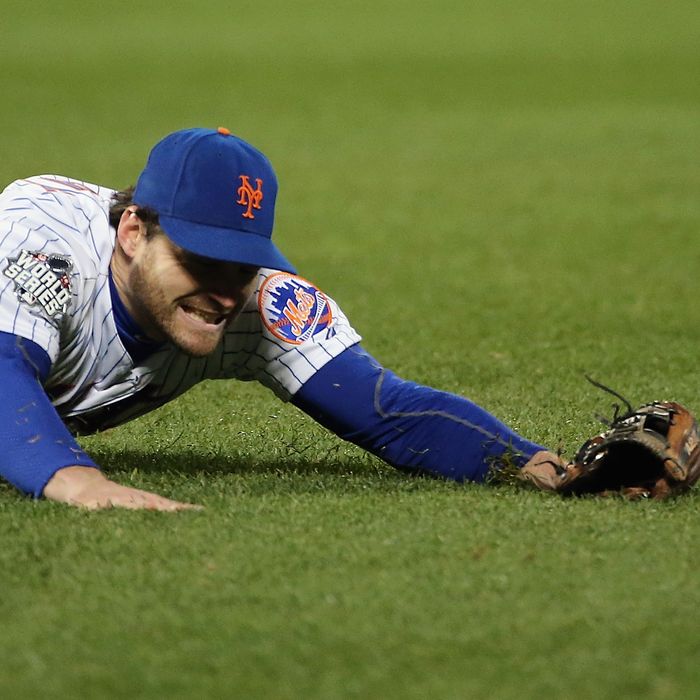 Daniel Murphy after failing to make a play on a ball in the eighth inning of Game Four of the 2015 World Series.
Photo: Doug Pensinger/Getty Images
After every World Series game, brothers and resident New York Mets nuts Benjamin Wallace-Wells and David Wallace-Wells will be chewing over what happened — in this case, a dramatic eighth inning collapse that puts the Mets down three games to one. 
David Wallace-Wells: I think the guy I feel the worst for is Jeurys Familia, who did more or less what he needed to do and ended up with his second blown save of the series. Daniel Murphy apparently can get the comfort he needs from chapstick — did you see him immediately applying balm, like it was tubed absolution, after that disastrous botched grounder? (Tim Raines used to slide head-first to protect the crack he carried in his back pocket, they say; Daniel Murphy smuggles Burt's Bee's out there). Forget the chance at a double-play, which was likely what was distracting Murph (in addition to Lorenzo Cain screaming at him from the base path), completing the out at first would've boosted the chance of a Mets victory to 75%; whiffing at the grounder dropped them to 34%. From Fangraphs: "Murphy's error, in terms of single-game win expectancy, was the most costly fielding mistake by any player in World Series history, save for Boston's Bill Buckner."
Ben Wallace-Wells: It sure feels like it was. It also feels a little familiar, expected. The Game 1 collapse was a surprise because one of our best was beaten — Familia rested and equipped with his best stuff. But the failures of our eighth inning last night came in exactly those areas of the team where most fans were primed to expect failure — from the shaky bullpen and from an immobile infield defense that features three players whose best defensive position is probably third base. 
Murphy's error had some of the same character as Buckner's; it moved so slowly that even in real-time it looked like a slow-motion replay. In each case it almost seemed that the ground ball was too simple, that the fielder had too much time to think, that some hidden drama took place inside his head. Some of the stathead commentary has worried about Familia's low strikeout totals during the past month, but to me he'd looked for most of the postseason to be exactly as sublime a force as he has all summer — more balls have been in play, but they have barely seemed threats. A half-second before Murphy let the ball amble beneath his glove, a second before you saw just how weakly it had been hit because it stopped as soon as it reached the outfield grass, I felt a great surge of relief: Hosmer's with two on and one out was the hitter I was worried about, and Familia looked to have overwhelmed him, and only Moustakas and the bottom of the Royals order would stand between the Mets and an even series. But when Murphy approached it a little too casually and left a baseball-sized space between his glove and the ground, when Familia knelt on the ground staring downwards and Wilmer Flores ran after the ball, very slowly himself, and Murphy just stopped and stared out into right field–this is no longer an LOLMets team, but that was an LOLMets tableau.
During the NLCS, it was often said that the Mets and the Cubs had both arrived at this stage a year earlier than expected. I think what was meant was that the stars simply seemed a little young, the team slightly premature. And yet the Mets young players have mostly seemed ready for the challenge — certainly they did last night, when Steven Matz, in his ninth major league start, pitched better than Harvey or deGrom had, and when Michael Conforto, who fifteen months ago was playing left field for Oregon State University, homered twice, the first a beautiful parabola into the upper deck. Last night it seemed that the prematurity may not have to do with the stars as with the end of the bench — that a team whose management really expected it to be in the world series would never have left such gaping holes in the bullpen, or in the middle of the field. What awes about the Royals is not how talented the team is but how completely it has been concieved — how the pinchrunners and the late inning right field replacement and the left-handed middle relievers always seem available and good at their jobs. The hole that Hosmer's ball found wasn't big, but for months we've known — watching very slow balls trickle past Flores and Murphy, watching Tyler Clippard's fastballs look slower and slower, giving his great change-up less room for error — that this exact hole would be there.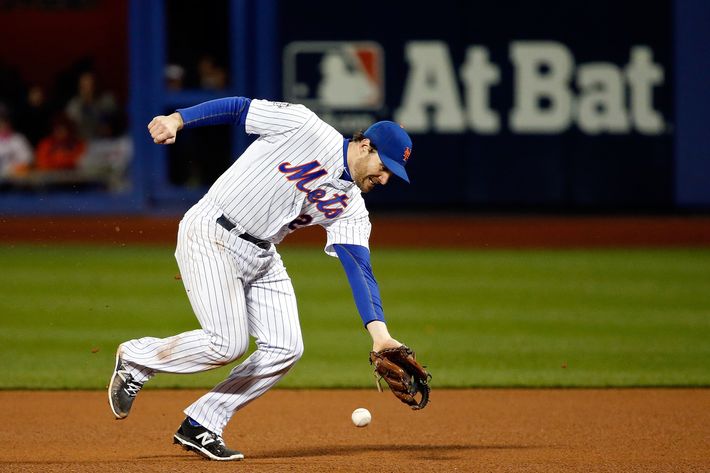 DWW: The composure of the kids is especially notable given the state of the sport as a whole — youth is everything now, from the Astros to the Cubs to the Royals and Mets. It's almost like rookies, lacking fully developed prefrontal cortexes (corticies?), are impervious to nerves — giving them the advantage in the one area (a very vague sense of ready-for-the-moment-ness, judged less from performance than quotes about ready-for-the-moment-ness given in pre-game interviews) where we still sort of prefer to trust veterans. Even a couple of years ago, a team's focus on youth seemed like a way to enable strategic investments in free-agents — if you get a core of 23-year-olds making the league minimum, you can invest in some high-end talent and still stay within something like a workable mid-market budget. It gets even easier if you're the Mets, when your ace Matt Harvey is making $600k and your four top starters combined are making about a quarter the salary of Michael Cuddyer, who at this point is basically a bench coach. But then, if the best you can do in free agency is overpay for a piece off the junk heap, what's the point of that? So over the last couple years the smart strategy as changed too, as a sabermetric consensus has formed that most players' peak years arrive earlier than anyone had even noticed before — and more importantly, before the collective bargaining agreement allows for free agency. Especially given how fragile pitching talent is, it seems just a matter of time until some ruthless general manager decides to abandon even the pretence of protecting the health of young arms or of extending contracts to its young bats, and just runs the cheap, pre-free-agency talent into the ground in five year cycles. I mean, how is it possible that as recently as the late 90s the Yankees built a decade-plus-long dynasty on the strength of free-agent signings, when the smart money these days says that kind of spending is mostly waste? Has the game changed that much since then? If so, how? Could it be, simply, the end of the PED era, which presumably didn't just extend careers and heighten performance peaks but possibly stretched out a player's average prime from something like 24-27 to something like 26-32?
But back to these kids. Yes, last night Matz absolutely looked great, though probably I was awarding him real-time style points for having spent the night in his childhood home and then carpooling with his mom from Stony Brook to Citi Field. (I still can't decide whether I prefer this picture, of him handing out candy yesterday afternoon, or this one, of Noah Syndergaard as a "chunkster" 10-year-old—actually who am I kidding, of course Thor as Dungeonmaster is better) But his looping curve ball, which he kept throwing early in the count, really did keep the Royals off balance, almost as though they hadn't seen anything so slow before. Dan Warthen, who I love for the way he jollily bounces out to the mound (and for those Google-glass glasses), won a ton of praise this year by teaching every member of the Mets staff the same signature pitch — the "Warthen slider" is somewhere between a cut fastball and a slider, depending on who's throwing it — but I found myself wondering last night, watching Matz lob those arcing strikes, whether some off-speed investment would have paid off more dramatically this series.
And what about the chipmunk managing the team? To judge from the world of Mets twitter, Collins may have blundered more than Murph last night — bringing Matz out for the sixth, pulling Colon after a single batter, trusting Tyler Clippard and neglecting to run out his closer for two full innings (as Ned Yost did his). I didn't find most of those decisions maddening because I didn't expect anything else — whatever Jonah Keri says, Terry Collns is not going to worry more about high-leverage at-bats than innings when deciding when to deploy his best relievers. He's just too much a dude from another baseball era (not that many managers aren't, and he did just beat one, the Cubs' Joe Maddon, with a reputation for being a lot more progressive). But I would've liked to see Oregon State's Michael Conforto in the on-deck circle at the end of the game rather than Kirk Nieuwenhuis, not just because he'd already homered twice in the game but because I'm not even sure Kirk is a defensive upgrade. When you talk about the Mets losing this game at the end of the bench and the back of the bullpen, is it possible what you're flagging is actually a managerial deficit?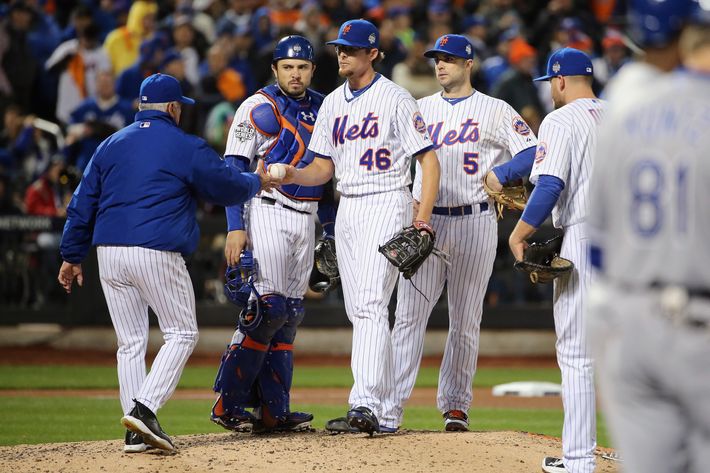 BWW: I can't defend Collins; I don't know if he lost that game, but there are plenty of ways he could have given us a better chance to win. Which depresses me a little to say, because this October, against all prior emotional experience, I had actually grown fond of Terry Collins, our dogged gut-follower and dead-horse-beater of a manager. "Terry Collins is a joy to be around," Joe Buck said earlier this series, and then, as if that wasn't enough, more simply: "Terry Collins is a joy." And though that mostly raised questions about what joy means to Joe Buck — it makes me a little tense to even look at Terry Collins — the manager did by the end of the season seem lovable and not just old. "Dan Murphy can stinkin hit, flat hit," Collins kept insisting, and then, this postseason, that wasn't just true but one of the things about his team that came to matter the most. 
I realize I'm using the past tense, which is strange and pessimistic: This has been a very evenly matched series, and we're a couple of plays away from being on the verge of a championship in game 5, rather than the verge of elimination. So many of the players on the team feel like they're heading for a valedictory lap tonight — Murphy may be on his last game as a Met tonight, and Cespedes and Clippard and even the great, beloved (and lately, criminally underused) Bartolo Colon. I've always thought that much-quoted Bart Giametti passage, in which baseball stands in for the passage of time, was overwrought and too sentimental: "It breaks your heart. It is designed to break your heart. The game begins in the spring, when everything else begins again, and it blossoms in the summer, filling the afternoons and evenings, and then as soon as the chill rains come, it stops and leaves you to face the fall alone." And yet my experience of this Series has heavily involved both Roger Angell and Bartolo Colon, and it feels in some ways like a bridge to a new Mets: Younger, better, arguably less lovable. But maybe that's just Giametti's seasonal determinism creeping in.
DWW: Ah Bartolo! Ah humanity! But does that mean you're not holding out much hope of a comeback? As a friend pointed out after the game last night, the Mets may be in a hole now but they are scheduled to run out Matt Harvey, Jacob deGrom, and Noah Syndergaard in the next three games. How can you bet against them, he asked? Admittedly, he had just done a line of cocaine, but, I had to concede, he did have a point. And having watched a whole boteco of baseball-ignorant Brazilians rally behind David Ortiz four ALCS nights in a row back in 2004, I have to say I'm keeping a little flame of optimism alive, especially if someone can chirp in Collins' pipsqueak ear about having Bart just take over all the pre-Familia bullpen duties and deploying our own David Ortiz, Juan Uribe, a little more often.