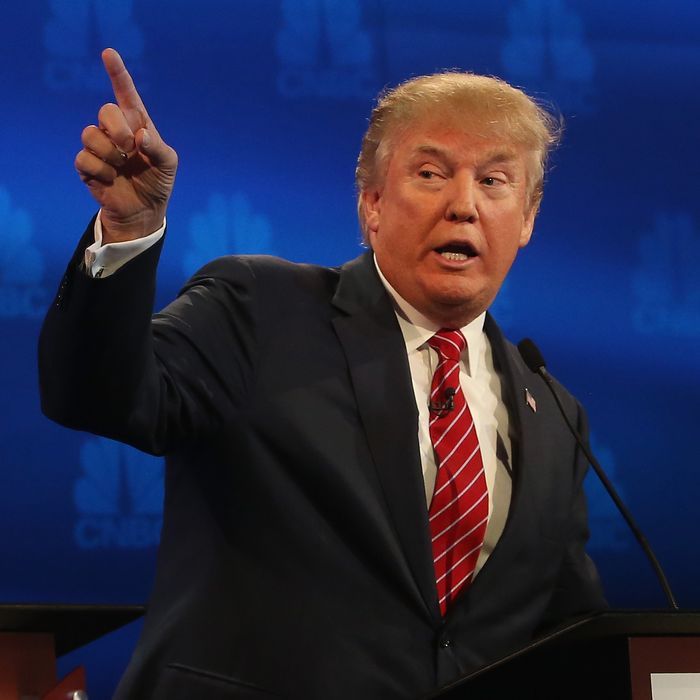 Donald Trump speaks while Marco Rubio looks on during the CNBC Republican Presidential Debate on October 28, 2015 in Boulder, Colorado.
Photo: Justin Sullivan/Getty Images
The Republican presidential candidates first banded together on stage last Wednesday as CNBC moderators pelted them with questions they didn't want to answer, and they managed to remain united through Sunday night, when campaign staffers forged a plan to cut the Republican National Committee out of the debate process. But several candidates have suddenly remembered that they're running against each other, and have very different goals.
Donald Trump undermined the cause on Monday when he announced he'd negotiate with the networks on his own, and Chris Christie, John Kasich, and Carly Fiorina jumped ship too. On Tuesday, Jeb Bush and Ted Cruz said they wouldn't sign the list of debate demands for the networks either, so only about half of the candidates are still on board. Ben Carson's campaign released the final list of demands tonight, and only three JV candidates — Mike Huckabee, Lindsey Graham, and Bobby Jindal — have committed to signing it. According to the Hill, the Rand Paul and Rick Santorum campaigns said they're still looking over the draft, and Marco Rubio's team won't discuss the issue.

The Carson campaign spearheaded the effort to take control of the debates, probably in an effort to show off the candidate's leadership skills. But while his success is based largely on being refreshingly amiable and low-key, he lashed out at the defectors. In a Fox News interview on Tuesday afternoon, Carson's campaign manager, Barry Bennett, said of those refusing to sign, "Some of these people are asterisks in the polls so they're not going to have a lot of sway."
Carson himself accused another candidate of leaking information about his connection to the shady supplement maker Mannatech to CNBC (though National Review's Jim Geraghty reported the story in January). "That obviously comes from someone on that debate stage," Carson said in a Tuesday interview on SiriusXM's Breitbart News Daily. "That's a submarine that's sent by them. They're very concerned about me, and they're using National Review as their political tool. That's pretty obvious." Geraghty denied that any candidate tipped him off about Mannatech.
Rather than quietly backing out of the alliance, many candidates have taken the opportunity to cast their opponents as crybabies. Interestingly, several of them adopted this stance only after the rest of the group wouldn't go along with their demands. Jeb Bush's request to reinstate the Telemundo debate was instantly rejected by Trump, and while he pushed for pre-approval of on-screen graphics after CNBC highlighted his past in finance rather than politics, that demand doesn't appear in the final version of the letter. But at a campaign event in New Hampshire, Bush said he wasn't joining the protest because, "I'm a big boy. As long as the rules are established and everybody plays by the rules, I'll be okay." 
Two candidates want to see more conservative debate partners, but the idea isn't getting much traction. Ted Cruz raised $1.1 million by talking up his "war on the liberal media," and suggested debates should only be conducted by known conservatives like Sean Hannity, Rush Limbaugh, and Mark Levin. On Fox News's The Kelly File, Cruz said he's "happy" to debate anytime, but reiterated that the forums should only be moderated by journalists who have voted in a Republican primary. Megyn Kelly pushed back, saying, "Would we have to submit our voting records to you or some committee?"
In an email to those drafting the letter, Fiorina spokesperson Sarah Isgur Flores suggested more extreme conservative moderators and mocked the other candidates' demands in the same breath. "As we have expressed publicly, we encourage the RNC to sanction conservative networks such as the Blaze and One America News to host and moderate a debate. We do not care whether it's 67 degrees or our green room isn't as plush as another candidate," she said. "Team Carly will not be signing this letter."
Marco Rubio and Chris Christie, who performed fairly well in the last debate, had fewer criticisms. "Debates are supposed to be tough," Rubio told Greta Van Susteren. "They're supposed to be difficult, and I anticipate that as a conservative, they're gonna be even more difficult because there is bias in the mainstream media." Unsurprisingly, Christie's tone was far less muted. He told Megyn Kelly he wouldn't sign the letter "because it's stupid," adding, "I don't care who the moderators are … my job is to listen to the questions, answer the questions, and if I don't like them call them out."
There's one candidate who still believes in the unity of the GOP candidates, though he may be doing more to undermine it than anyone else. At a book-signing event, Trump recalled that the entire debacle, "really started with me," pointing to moderator John Harwood's question about his "comic-book version of a presidential campaign." "The guy asked me a question. I think Harwood is probably finished as a credible reporter. He's a disaster. And it was such a horribly put question and so obvious," Trump said. "And the Republicans coalesced around each other. It was actually pretty beautiful, when you think about it."