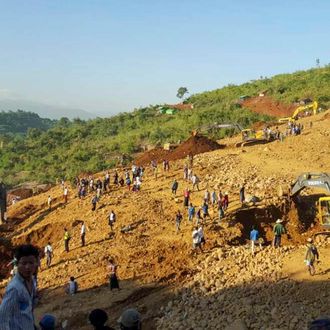 People search for the miners killed by a landslide in Myanmar.
Photo: Zaw Moe Htet/EPA/Landov
A landslide buried a jade-mining encampment in Myanmar on Saturday night, along with at least 120 people.
It was the worst jade-mining disaster in recent history.
The encampment, called Plastic Village, contained more than 70 huts housing three to four workers each. All but five shacks were buried when a nearby 200-foot mound of earth collapsed around 3 a.m., according to CNN. Plastic Village was located in mountainous northern Myanmar, where jade mining is a lucrative but dangerous industry. Workers often set up camp at waste-dumping sites in order to scavenge for chunks of jade among the rubbish, later selling them for a profit.
These fast, deadly landslides are common in the mines, especially during monsoon season, as the soil is loosened by the rain. The inhabitants of Plastic Village were buried while they slept.
By Monday morning, roughly 120 bodies had been found, according to the Kachin National Social Development Foundation. "We can't say exactly how many, because some bodies did not come out as whole pieces," Secretary U Naw Land told the New York Times. Authorities are now on the third day of the search for bodies. Many workers remain missing.