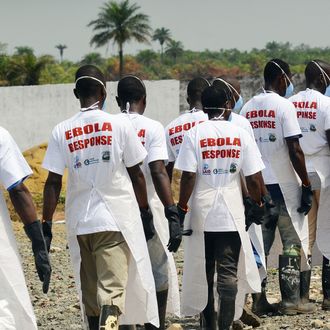 Workers wearing protective equipment march in line to go put the barrels containing victims of Ebola's remains in a car on March 7, 2015.
Photo: ZOOM DOSSO/AFP/Getty Images
Ebola has resurfaced in Liberia, a country that has twice been declared virus-free.
A 10-year-old boy in the Liberian capital of Monrovia has contracted the virus, health officials told the Associated Press on Friday. The West African country, which has lost nearly 5,000 of its citizens to Ebola since the beginning of the outbreak last year, has been "Ebola-free" since September 3. 
The night before the virus was confirmed, Liberian president Ellen Johnson Sirleaf had praised Liberians for coming together to overcome the "scourge" of Ebola. News of the new case comes just days after a baby girl recovered from the last known case of Ebola in Guinea. Sierra Leone defeated the virus earlier this month.
The World Health Organization's special representative for Ebola response Dr. Bruce Aylward said he was optimistic that the flare-ups would end by 2016. For now, all the boy's relatives are being watched carefully, according to the New York Times, in case they were exposed to the deadly virus too.