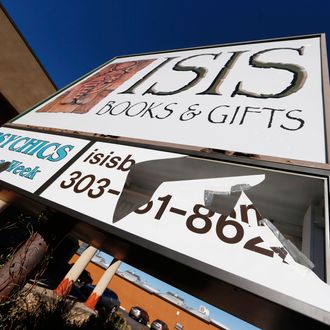 This is a place for moondogs, not terrorists
Photo: David Zalubowski/AP/Corbis
Remember when ISIS wasn't a scary word? As early as three years ago, the name Isis was mainly associated with the goddess of ancient Egypt, daughter of Geb, god of the earth, and Nut, goddess of the sky. The name used to be exotic and sophisticated; it was the name of Lord Grantham's dog on Downton Abbey.
Of course, in 2015 the word ISIS is now synonymous with terrorism, rape, and murder, thanks to the Islamic State of Iraq and Syria — which can make things awkward for people and companies named Isis, especially after last weekend's attacks in Paris.
Here's a sampler:
Isis Pharmaceuticals
Stocks in the 25-year-old biotech company (ticker symbol ISIS) dipped 5 percent on the first trading day after the Paris attacks despite its strong financials. Spokespeople have said in the past that the company will retain its name for the foreseeable future and remain open to emails requesting the company change its name.
Isis Anchalee
The Facebook account of a software engineer in San Francisco was disabled due to her first name.
The mistake may have been a result of Facebook clamping down on offensive fake names for profiles. Several other internet users named Isis have also reported issues when signing up for services.
Isis Books & Gifts
Jeff Harrison, the owner of the Denver-area spirituality store Isis Books & Gifts, arrived at his business on Thursday to find that someone had vandalized his store for the fifth time this year because of its name.
The Integrated Student Information System
A software platform used by University of Arkansas students to register for classes called Integrated Student Information System (you can make the acronym for yourself, we believe in you) will be renamed UAconnect next semester lest anyone try to sign up for jihad 101.
This marks the second wave of renaming things called ISIS since the terrorist group became well known in the latter half of 2014. Other organizations that were renamed include a school in England, a Belgian chocolate company, and the spy agency on the FX series Archer.