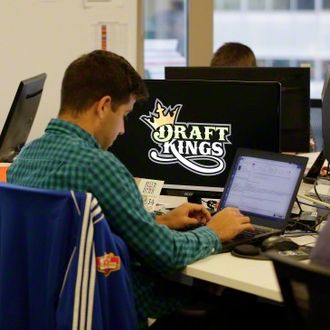 You won't be able to do this in New York soon.
Photo: Stephan Savoia/AP/Corbis
New York attorney general Eric Schneiderman sent cease-and-desist notices to FanDuel and DraftKings — the two giants in the growing daily fantasy sports industry — telling the companies that they are no longer allowed to accept bets, or do anything else, in New York.
"Our review concludes that DraftKings'/FanDuel's operations constitute illegal gambling under New York law," Schneiderman said in the letter, according to ESPN. Daily fantasy sports sites argue that doing well at the games requires more skill than luck; Schneiderman doesn't agree. "[E]ach DraftKings/FanDuel wager represents a wager on a 'contest of chance' where winning or losing depends on numerous elements of chance to a 'material degree,'" he wrote. The sites have started offering huge prizes — and expanding into individual sports such as golf — which has made legal authorities considerably more skeptical. Last month, Nevada ruled that daily-fantasy sports constituted gambling, and that the companies couldn't take bets in the state until they secured a gambling license. Several state legislatures are considering fantasy-sports regulation legislation. The FBI and DOJ are investigating the companies too, after the New York Times reported that a DraftKings employee managed to win $350,000 on FanDuel, maybe after using insider information. 
In other words, FanDuel and DraftKings have not had a good past few months on the legal front —  despite gaining tens of thousands of new players and spending gobs of money on advertising — and today's news will definitely not lift its employees' spirits. 
FanDuel's headquarters are in New York, and DraftKings has a big office in the city. DraftKings has 500,000 users in New York State, per the New York Times.
According to the Times, DraftKings quickly emailed its New York users about the news: "Hey, New York, protect your right to keep playing daily fantasy sports. Contact the attorney general today!" A FanDuel spokesperson told the Times,  "Fantasy sports is a game of skill and legal under New York state law. This is a politician telling hundreds of thousands of New Yorkers they are not allowed to play a game they love and share with friends, family, co-workers and players across the country."
The companies can challenge the decision in court, which would force the state to explain why it thinks daily-fantasy sports are a game of chance. Republican presidential candidates were asked about fantasy sports at the last debate — and the moderators were mocked in real-time by those on stage for asking about such a thing. However, Jeb Bush, who would probably love the chance to talk about this subject again, as it would give him another chance to remind New Hampshire about how much he loves the Patriots, did say he thought a little regulation was necessary — although not because he considers it gambling. "If they can't regulate themselves," he said, "then the NFL needs to look at moving away from them a little bit, and there should be some regulation. I have no clue whether the federal government is the proper place. My instinct is to say hell no."