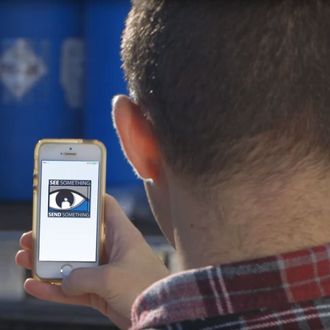 New York wants you to start 'gramming suspicious behavior.
New Yorkers are used to being told to speak up when they see suspicious activity, but in the wake of the recent attacks on Paris, they now have another option: taking photos of things that seem weird with a brand-new counterterrorism app.
See Something, Send Something, the new app released from Governor Andrew Cuomo's office Monday, allows users to take photos of suspicious activity and report them to the New York State Intelligence Center, where they are reviewed and forwarded to law-enforcement agencies, the New York Daily News reports.
Beau Duffy, a spokesperson for the New York State Police Public Information Office, told DNAinfo that suspicious activity "could include an unattended backpack or briefcase in a public place, a vehicle that's parked in an unusual location, or someone who is showing an unusual interest in a building or other facility." Which could prove difficult in a city full of tourists.
Cuomo's office released the app along with an informational video that shows a test conducted by the New York State Division of Homeland Security and Emergency Services. The test measured how long it would take for someone to report an open truck full of explosives on a city street. The DHSES claims it took four days, proving the need for more awareness and more effective reporting tools.
The official release also explained that New Yorkers should avoid reporting "beliefs, thoughts, ideas, expressions, associations, or speech unrelated to terrorism or other criminal activity." In other words, you should find another outlet for complaining about subway delays.