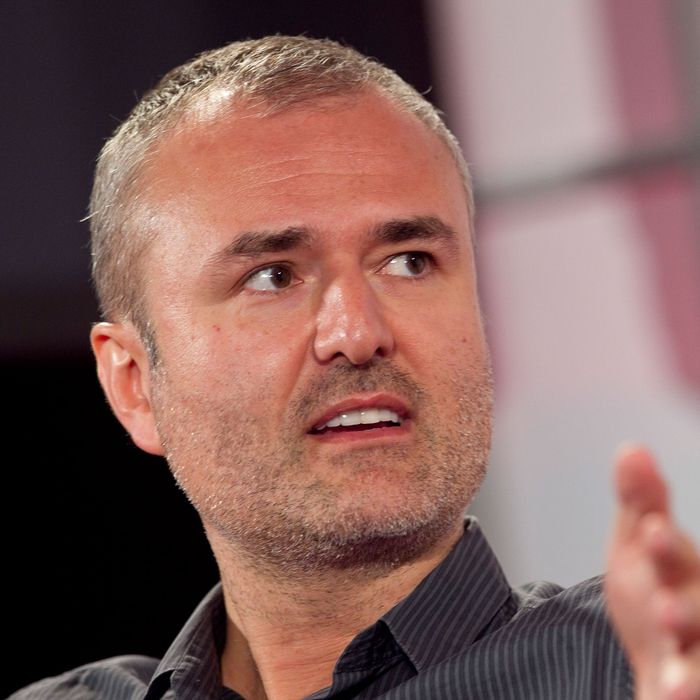 Nick Denton.
Photo: Andrew Harrer/Bloomberg/Getty Images
A few days ago, Gawker Media proprietor Nick Denton revealed that the company's flagship site, Gawker.com, will shift its focus to "political news, commentary and satire," laying off several people and hiring six new staffers. The decision followed a period of organizational turmoil that began in July, when Denton deleted a controversial Gawker post detailing a married media executive's effort to hire a gay escort. The episode garnered a lot of negative attention, caused several writers and editors to resign, and prompted Denton to declare that Gawker would become "nicer." This week's announcement marked the end of a long evolution for the site.

Denton founded Gawker as a no-holds-barred Manhattan gossip blog in 2002, with a then-26-year-old Elizabeth Spiers as the site's editor and writer. In the ensuing 13 years, Gawker saw an exponential expansion of its ambitions, reach, and influence, as well as Denton's shifting ideas of what, exactly, he wanted the site to be. Below is a compilation of Denton's various descriptions of Gawker's nature and mission throughout the years:

Here are Gawker's original interests, per a manifesto published when it launched in 2002:
"Tina Brown, urban dating rituals, Condé Nastiness, movie grosses, Hamptons gauche, real-estate porn, Harvey Weinstein, fantasy skyscrapers, downwardly mobile I-bankers, Eurotrash, extreme-sport social-climbing, pomp, circumstance, and other matters of weighty import."
In a May 2003 New York Times piece introducing its audience to local "web logs," Spiers said Gawker chronicled "class warfare as recreational sport; pathological status obsession; and the complete, total, and wholly unapologetic embrace of decadence," and Denton explained what he liked about his then-sole writer's approach:
By selling advertising around her tart prose, he hopes one day to earn a profit. He described her world view as "that of a slightly cynical but enthusiastic outsider."

"She's smart enough to plug herself in, but has the freshness and naïveté of a good Web log," Mr. Denton said, adding that Ms. Spiers was "still amazed by things that a traditional newspaper might think of as boring or repetitive."
Over the course of the next several years (and editors), Gawker maintained its focus on Manhattan and the media industry, with the addition of some more mainstream celebrity gossip.
In 2007, Denton's then-editor, Choire Sicha, told New York: "He has defiantly lower print standards than any of us. I'll tell him, 'That guy's gay,' or 'That guy's having an affair,' and he'll say, 'Then write that.' Well, I haven't slept with the guy, so I don't want to go to court over that. Nick communicates such things intentionally to us, to continually erode our standards." Meanwhile, Denton called Julia Allison (remember her? No?) a "Gawker celebrity."

But when more than half of its editors and writers abruptly quit in late 2007, Denton decided it was time to make Gawker into something bigger:
"Choire's departure as managing editor, and that of his blogger protégés, will obviously be a complete pain," Nick Denton, publisher of Gawker Media, which includes 13 other sites, wrote in an e-mail message. "But we've been through it before, three times, and this change of the guard does give us the opportunity to accelerate the transformation of Gawker from cute blog to fully-fledged news site."
In a post seeking a new editor, Denton elaborated on his new vision for Gawker:  
We're casting a wide net for candidates, beyond the clubby world of bloggers. Because Gawker is becoming a larger and more complex operation, and, frankly, a more traditional one.

It's no longer enough to take stories from the New York Times, and add a dash of snark. Gawker needs to break and develop more stories. And the new managing editor will need to hire and manage reporters, as well as bloggers. Gawker.com receives more than 10m pageviews per month. Think of Gawker less as a blog than as a full-blown news site. The right candidate will oversee Gawker's evolution.
An excerpt from Denton's early-2008 chat with a candidate for the job:  
Denton (4:40:12 p.m.): so, let me tell you what I want to do on the site

Denton (4:40:17 p.m.): nothing that radical

Denton (4:40:27 p.m.): media gossip and pop culture

Denton (4:40:31 p.m.): same subject matter as ever

Denton (4:40:40 p.m.): but understood more broadly

Denton (4:40:52 p.m.): i.e. not just magazine gossip, but tv and web media too

Morgan (4:41:15 p.m.): yeah, emily and doree really did that well with book publishing

Denton (4:41:32 p.m.): and, similarly, on pop culture, much more on web, videogames, etc — the growing parts of culture

Denton (4:41:40 p.m.): we had too much on book publishing

Denton (4:42:01 p.m.): or, rather, too little on the bits of media that actually have an audience

Denton (4:42:31 p.m.): we could expand gawker's new york city coverage

Denton (4:42:36 p.m.): but I don't really want to do that

Denton (4:43:03 p.m.): I'd rather it be a national media gossip and pop culture site, which is based in new york, but can attract a national audience
From the same period:
"The ideal Gawker item," Nick Denton, the owner of Gawker Media, wrote in an instant message last month to a prospective hire, "is something triggered by a quote at a party, or an incident, or a story somewhere else and serves to expose hypocrisy, or turn conventional wisdom on its head."

"And it's 100 words long. 200 max. Any good idea can be expressed at that length."
And:
"Gawker is for media and creative people, and those who aspire to join them," Mr. Denton wrote. "It's always going to be a limited audience."
In a Guardian interview conducted a few months later, in March 2008, Denton indicated that he had a "complicated" relationship with Gawker, which, by that time, was one of more than a dozen Gawker Media sites:  
He's proud of it, but worries about the attention it receives, if only for business reasons. 'It irritates me that everybody concentrates on Gawker, because it's just one of 15 sites and it doesn't even get the most traffic. It's a significant site, but it's not what we are.'

What about accusations that the site has become nastier?…'That's bullshit,' he says. 'The site's always been seen as bitchy and nasty. I don't try to dress up these stories as having a noble purpose. Occasionally, like the Scientology video, they may do, but that's not the point.'
In early 2009, Denton folded Defamer into Gawker:
"Gawker is a national title now — and the inclusion of Defamer underlines that our flagship gossip site is as much at home in Hollywood as it is in New York."    
In 2010, Denton bought Cityfile, described by the Times as "a relatively small Manhattan site known for its database of bios of A-listers," and appointed its founder editor of Gawker:
Mr. Denton wrote that the move was less about declaring dominion over Manhattan gossip than going up against much larger sites.

"This isn't about CityFile, or competition with Manhattan or media sites like The Awl or Mediaite," he said. "We're up against monsters: sites like Arianna Huffington's and AOL's army of bloggers and robot content generators. We can't just be cute and successful for Manhattan, so that might explain the restlessness."

He added that Gawker, which now has about four million visitors, could still get much larger — perhaps 10 million people a month "under Remy."
From a New Yorker profile of Denton published later that year:
"I actually think Gawker's fairer now than it used to be," he told me, and quickly added that this had not come about through "any great moral reëxamination" but because the numbers are inherently self-correcting. There aren't enough potential readers in Manhattan to justify radical Manhattanism as a premise.
Still, his commitment to gossip in general seemed to have remained intact. From 2012:
The real story about gossip on the Internet is how little has changed," he said, "and how little [Gawker's] been able to change things. I'm actually disappointed in how little we've done. … If you take the real measure of secrets that are out there, that are known by people on the inside, and what appears in the media, there's still a gigantic gap."

It wasn't long ago that Denton changed Gawker's tagline, from something rather generic about gossip from New York to the Beltway to Hollywood, to its current one: "Today's gossip is tomorrow's news." Making gossip more transparent has been his conceptual hobbyhorse for some time now.
From 2014:
PLAYBOY: You've said the mission of Gawker is to publish the stories that journalists talk about with one another in private but never write.

DENTON: Yeah, the founding myth of Gawker happens to be true. I was a journalist at the Financial Times. Whenever you work at a newspaper, particularly a newspaper with high standards, you're struck by the gap between the story that appears in the paper the next day and what the journalist who wrote that story will tell you about it after deadline. The version they tell over a drink is much more interesting—legally riskier, sometimes more trivial, and sometimes it fits less neatly into the institution's narrative. Usually it's a lot truer. The very fact that a journalist will ask another journalist who has a story in the paper, "So what really happened?"—now, just think about that question. It's a powerful question. It's the essence of all meaningful gossip.
But after the blowup over the deleted post, Denton — who is also facing a potentially devastating lawsuit over Gawker's publishing of a Hulk Hogan sex tape — seemed to decide that the site's policies and mission had to be overhauled. In a memo about the situation, Denton wrote:
In regards to the recent story about a media executive blackmailed by an escort, I've explained extensively I ordered this misjudged exposé removed because it was not in line with the editorial standards I believe Gawker.com should maintain. And yes, it was also damaging to the brand of Gawker.com and the reputation of the company that shares the same name.

The takedown of the CFO story was unprecedented, unanticipated and necessarily hurried. It's made us think more deeply about editorial freedom, how to secure it and define it – and how to ensure there is no repeat of such a story and the outrage prompted by its drastic removal.
From that same week, via Politico New York:
Denton said during the meeting that Gawker must have an official editorial policy based on the standard that stories published must be both true and meaningful, not merely true. Gawker cannot publish gossip like Page Six does, he said.

"Gawker's supposed to be better that that. It's supposed to be good gossip, it's supposed to be juicy gossip, it's supposed to be revealing gossip. … I'm not saying we should never do these stories, but there has to be a point, and there really wasn't a point to justify Gawker running this," he said.
And from a Times interview about the future of Gawker, conducted a few months before Denton announced that it would become a politics site:
Q. You said in a recent memo to all of Gawker staff that "even the best of our stories fail to get credit, in part because of Gawker's reputation for tabloid trash." How do you define tabloid trash?

A. I define tabloid trash as a scandal without any point. Infidelity, drug use, illness: These may be sufficient justification for a tabloid news site. But Gawker is supposed to be an intelligent tabloid, that covers juicy stories that show how the world works. I'm proud of our coverage of Bill O'Reilly's temper, Hillary Clinton's secret kitchen cabinet, the privilege of Michael Lynton's daughter. In all those examples, there was a point, and a public interest in the truth getting wider circulation.

Q. Is it fair to say that Gawker will become more like the publications it set out in opposition to?

A. Gawker will be at the very edge of the mainstream. It will look for real stories either in the compromises of mainstream media companies, or in the principled anarchy of free-for-all web communities such as Reddit. I don't think The New York Times should relax just yet.

We will continue to run stories that others deem too distasteful. Our standards will be looser than those of The Times and other established news organizations. But there will be clearer standards.
What Gawker rebooted as a politics site will look like still isn't totally clear — editor Alex Pareene offered some hints here, and Thursday's lineup demonstrated a clear shift — but anyone familiar with Gawker Media's history can't help but think of Wonkette, the popular politics blog Denton sold off along with two other sites in 2008. Here's what he wrote at the time:
Why these three sites? To be blunt: they each had their editorial successes; but someone else will have better luck selling the advertising than we did…As for Wonkette: political advertisers are a strange breed; they don't come through the same agencies our sales people deal with.

Wonkette is one of the brands with which the company is most associated; people will be shocked that we would ever part with it. The political site has won an array of Bloggies and other awards; it introduced the word ass-fucking into the dictionary of political abuse; the founding editor's slippers are even on display in the new media museum in Washington, DC. And Ken and his team have brought a new liveliness to the site this election season —validated by the record traffic of the last three months.

So why not wait, at least till the election? Well, since the end of last year, we've been expecting a downturn. Scratch that: since the middle of 2006, when we sold off Screenhead, shuttered Sploid and declared we were "hunkering down", we've been waiting for the internet bubble to burst. No, really, this time. And, even if not, better safe than sorry; and better too early than too late.
Things change, but not too much.