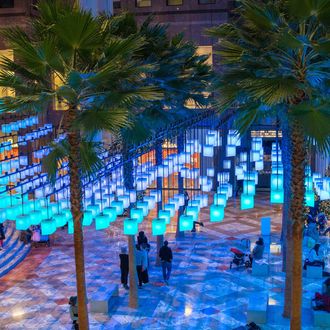 Photo: Arbuckle Industries
Now that Thanksgiving is over, it's on: the pointillist arms-race to string as many lights as possible onto massive spruce trees, museums, monuments, archways, balconies, balusters and every storefront in as many public spaces across Manhattan. Lights, lights, lights are the city's true holiday-season tradition, and they dust every corridor of our holiday journey. Luminaries, opening in the Winter Garden at Brookfield Place on December 2, is an attempt at something somewhat new.
David Rockwell — the exacting mind behind the clean lines of JFK's Terminal Five and the anesthetized modernism of Nobu outposts across the globe — grafts onto the massive interior of Brookfield Place (the space formerly known as the World Financial Center) in the form of 650 LED-lit hanging skylights, resembling a thumb-tacked tapestry draped from the ceiling. Three "wishing stations" scattered throughout the garden's floor plan, and connected to a central computer brain, allow for dexterous visitors to choose a color. Once their "wish" is made at the touch-sensitive stations, that color is pushed out across the hanging rows of light.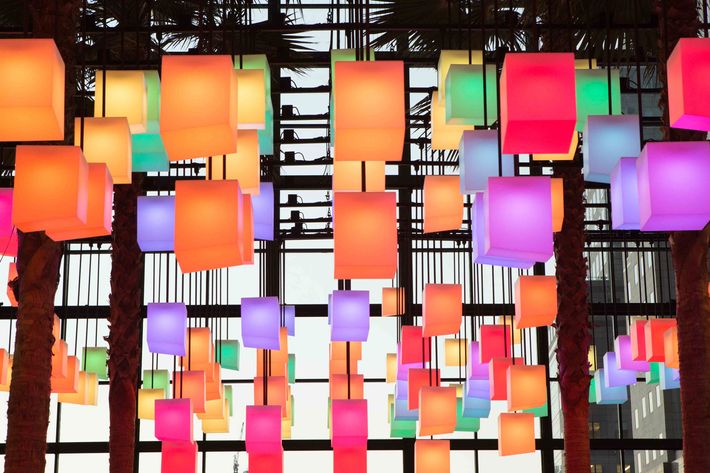 "Movement is one of the pleasures of a public space," Rockwell said during an overview of the installation. He says he designed Luminaries to "acknowledge a human presence." Good news for the city-walking masses, who are hard-pressed to interact with humans but who may be willing to take off the ear buds when they realize they can "curate" the installation's cycling ambient light. 
The many hundreds of lights will cycle through preprogrammed shows like "Ribbon," "Firecracker," and "Snowfall," abstract representations that are the closest conceptual thread connecting the installation to any overarching sense of "holiday."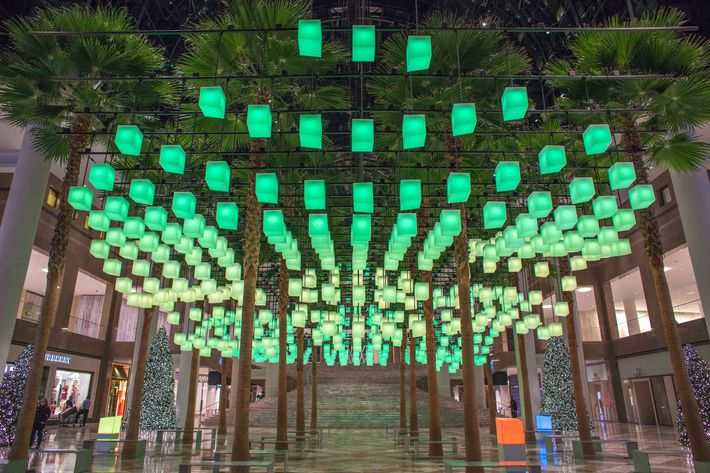 The "sense of community" that Rockwell set out to engineer in the act of wishing also has a giving component. Brookfield Arts, who commissioned Rockwell to design the installation, has partnered with the Grammy Foundation to contribute $1 per "wish," capping at $25,000. Each dollar will support the foundation's high-school music initiatives throughout the city. On December 1, Rockwell, along with pop star Meghan Trainor, will cast the first wishes during an invite-only opening ceremony. It will be open to the public until January 10, 2016. 
Think of it as a high-tech version of the old Bing Crosby song: "While the merry bells keep ringing / May your every wish come true."