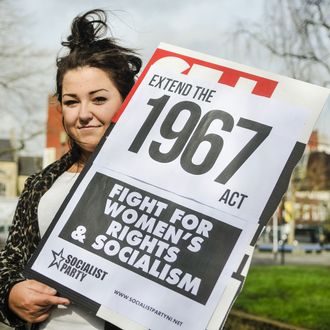 A woman holds a poster saying "Extend the 1967 [abortion] act [to Northern Ireland]" at the start of the International Women's Day parade in Belfast on March 8th 2014.
Photo: Stephen Barnes/Demotix/Corbis
On Monday, a high-court judge ruled that Northern Ireland's draconian restrictions on abortion violate the human rights of women and girls — a decision that could overturn an abortion law that has been in place for more than 150 years.

While the rest of the United Kingdom liberalized their abortion laws in 1967, Northern Ireland's most recent legislation on the matter is the "Offences Against the Persons Act" of 1861. Under that law, women in Northern Ireland are prohibited from seeking abortions even in cases of rape, incest, or fatal fetal abnormalities that indicate their child will be born dead. Regional hospitals can only perform the procedure if the mother's life or long-term health is at risk; if a local medical team ever provides abortive services to a teenage victim of incest, they can be punished with life in prison. 
At least 1,000 women and girls travel from Northern Ireland to hospitals in Britain to secure abortions every year, according to The Guardian. Among the women who made that trek in 2013 was a 13-year-old who had become pregnant through incest, official records show.
With no sign that lawmakers would pass reforms on their own, the Northern Ireland Human Rights Commission decided to try securing broader abortion rights through the courts. On Monday, a judge ruled in its favor.
It's unclear whether local authorities will enforce the decision. Northern Ireland attorney general John Larkin told the BBC that he was "profoundly disappointed" and was "considering the grounds for appeal."
"Today's result is historic, and will be welcomed by many of the vulnerable women and girls who have been faced with these situations," NIHRC head Les Allamby said in a statement. "It was important for the commission to take this challenge in its own name, in order to protect women and girls in Northern Ireland and we are delighted with the result."