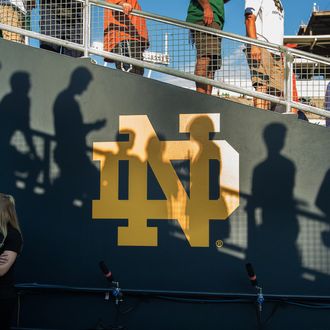 Photo: Zach Bolinger/Icon Sportswire/Corbis
On Friday, a lawsuit was filed against a female academic coach at the University of Notre Dame, accusing her of coercing African-American members of the school's vaunted football and basketball teams into having sex with her daughter. Initially, the university treated the allegations as too salacious to be true — one spokesperson for the school dismissed the claims as "a cynical attempt to attract publicity." But now the academic coach has been fired for violating Notre Dame's "values" and its "discrimination harassment policy," according to an internal report obtained by the New York Daily News.
The lawsuit alleges that the violations began shortly after an unnamed African-American student came to the academic coach, who is white, last spring. It was at that first meeting that the tutor allegedly initiated a "sexually and racially motivated inappropriate and demeaning relationship" between her pupil and her daughter. 
The lawsuit's narrative of that relationship, as first reported by the South Bend Tribune, proceeds as follows: The academic coach pressured the student into a sexual relationship with her daughter, a student at a nearby college. She provided lodging, transportation, hotel rooms, and condoms to facilitate the relationship. Later, she would question her pupil about the "nature, frequency and quality" of his encounters with her daughter, then demean him "with racially-charged comments about his sexual prowess and genitalia."
When the student tried to end the relationship, his tutor threatened him, then tried to convert him to Catholicism, then referred him to mental-health counseling. At the school's counseling center, the coach's apparent friend tried to "medicate Plaintiff John Doe to keep him passive, cooperative, and under control," the court documents allege.
Only one plaintiff is listed in the lawsuit, but lawyers for the unnamed student suggested that he is only one among several African-American males on the school's athletic teams who suffered such harassment.
"She was exploiting African-American males," the student's lawyer, Peter J. Agostino, told the Daily News. "He was invited to the family's private home to facilitate the relationship."
Shortly after the suit was filed Friday, Notre Dame released a statement, which read in part, "The allegations against the University of Notre Dame in the complaint are unfounded … As are gratuitous and unfounded references to 'student athletes' — an allegation that is nothing more than a cynical attempt to attract publicity."
The plaintiff had tried to bring the tutor's behavior to the attention of school officials before filing the lawsuit but was repeatedly ignored, according to his lawyers.
"The failure to respond and react reflects a double standard by some at the University, as the objectification would not have been tolerated under any other set of circumstances," the student's attorneys wrote in a news release.