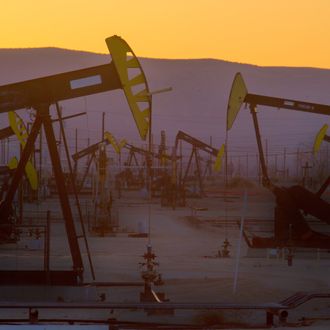 An Exxon Mobil Oil field in Bellridge, one of the largest in the US.
Photo: Les Stone/Corbis
Last week, Hillary Clinton said the Justice Department should investigate whether Exxon Mobil lied to consumers and investors about climate change. "Yes, yes, they should," she said, according to Inside Climate News. "There's a lot of evidence that they misled people." Her rivals in the 2016 Democratic presidential primary, Bernie Sanders and Martin O'Malley, have also called for a federal investigation into the oil company. A week later, former vice-president Al Gore said he agreed. Many other Democratic legislators have written letters and op-eds listing all the reasons why they think Exxon Mobil deserves scrutiny. 
These calls often cite the work of Inside Climate News, the Guardian, and the Los Angeles Times, which have published several reports highlighting evidence that Exxon might have known about the impact fossil fuels had on the environment for decades — way back in the '70s and '80s — and drifted away from such research to focus on funding research that denies the existence of climate change. Recently, Exxon Mobil has stepped away from many of the climate deniers it once supported, after facing years of criticism. 
It seems New York Attorney General Eric Schneiderman agrees. According to the New York Times, he issued a subpoena to the company on Wednesday, asking for emails and financial records, along with a spate of other documentation from its decades as one of the most powerful companies in the world. The attorney general's office has also been investigating coal company Peabody Energy for the past two years, according to the Times report, for similar reasons; the Exxon Mobil probe could be expanded to include other energy companies. The company responded to the news in the same way it reacted to all the reports and condemnations that preceded it. Exxon Mobil told CNBC in a statement, "We unequivocally reject allegations that ExxonMobil suppressed climate change research contained in media reports that are inaccurate distortions of ExxonMobil's nearly 40-year history of climate research that was conducted publicly in conjunction with the Department of Energy, academics and the UN Intergovernmental Panel on Climate Change." 
Many of the environmental groups and elected officials that believe Exxon Mobil should be investigated compare the scenario to the one that wounded tobacco companies in the '90s after they denied the cancer risks of smoking. Schneiderman is relying on the state's Martin Act, which prohibits "any fraud, deception, concealment, suppression, false pretense" or "any representation or statement which is false."