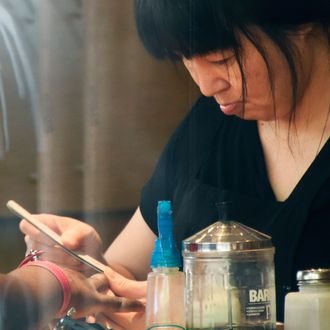 The nail salon controversy continues.
Photo: Justin Lane/Corbis
The two-part nail salon exposé the New York Times published in May prompted a swift crackdown from state legislators, but there was also a backlash against the report from nail-salon owners and several media outlets who said reporter Sarah Maslin Nir misrepresented the industry. The Times stands by the story, but Margaret Sullivan, the paper's public editor, concluded that "in places, the two-part investigation went too far in generalizing about an entire industry. Its findings, and the language used to express them, should have been dialed back — in some instances substantially."
Now the Times is facing a new round of criticism for an article Nir wrote earlier this month that suggested Ron Kim, an assemblyman from Flushing, Queens, went from drafting the bill to being one of its biggest opponents after receiving campaign donations from nail-salon owners. Kim returned $7,000 he received from two industry associations. (The Times issued a correction after misreporting the amount an industry group donated to Kim.)
Kim insists he has always been opposed to the requirement that nail salons, but not other image-enhancement businesses, be required to buy wage bonds, which ensure workers will get paid in the event of wage theft. Over the weekend, Kim pushed back in a letter to the editor published in the Times, noting that the wage-bond requirement is in an emergency order issued by Governor Andrew Cuomo, not the actual bill.
"Nowhere in the law does it require business owners to purchase a special wage bond," Kim writes. "In fact, the Assembly removed such provisions while drafting the bill, knowing that such bonds might be disproportionally difficult for immigrant small-business owners to obtain because of their lack of personal credit history. Instead the law states that any bond or insurance product requirement must be certified by the Department of Financial Services as 'readily available in a robust, competitive marketplace.'"
As Crain's points out, the law does say that the state can shut down any "image enhancement business" that does not obtain the wage bond. It's difficult to sort out the haggling between legislators and the governor's office, but Reason posted official markups of the bill that show Kim was trying to put limits on the insurance mandate back in May.
Several of Kim's fellow legislators backed up his version of events, including Assemblyman Michael Simanowitz, who told Reason the implication that Kim was swayed by donations is "a load of baloney."