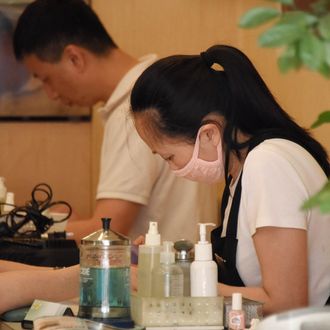 An NYC nail salon in May 2015.
Photo: Justin Lane/epa/Corbis
After the New York Times published an expose on nail salons, state legislators quickly cracked down on the businesses, passing a law that protects workers from unfair working conditions. Ron Kim, an assemblyman from Flushing, Queens, helped draft the bill, but the paper reports that he's now a leading opponent of his own bill.* Kim is particularly upset about the provisions designed to protect against wage fraud, and claims he thought the law would apply to all "appearance enhancement" businesses. "I genuinely did not think they were applying it to only nail salons," Kim said.
Some are having a hard time understanding Kim's reversal on the issue. "I am confused that he is confused," said Alphonso B. David, chief counsel for Governor Cuomo.
This may clear things up: Nail-salon owners quickly organized in response to the crackdown, and according to the Times, they gave Kim tens of thousands in political donations. On the other hand, in September, Kim returned a $5,000 donation from the Korean American Nail Salon Association, and $2,000 from the Chinese Nail Salon Association of East America to avoid the appearance of impropriety. "I didn't want to give any impression to anybody that I did this because they were at one point donating to my campaign," Kim said, "even though I don't think that there was anything illegal in what that was." So it sounds like Kim just rethought the issue after all!
But on the other other hand, Kim kept at least $17,000 in donations from salon owners. He claims he didn't realize the donors were affiliated with the nail-salon industry, though some of the money came directly from the salons. His staff is looking into whether that money should be returned too.
* Kim disputes the way he was characterized in the original Times report. Read about his response here.