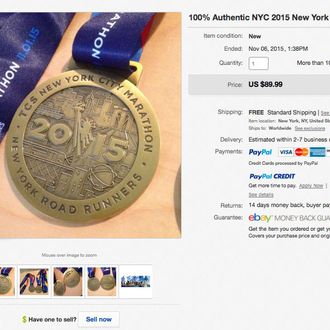 A seller on the auction site eBay has opened bidding on authentic finisher medals from last Sunday's New York City Marathon. The organizers of the marathon, the New York Road Runners, are investigating the possible theft of 18 finisher medals, which are now being sold online for $90 each — significantly cheaper than actually running the marathon.
The seller, eBay user library419, is highly rated on eBay and seems to deal mostly in perfume and other cosmetics. Last month, the same user also sold four finisher medals from the New York City half-marathon for $25 each.

It is not uncommon to see finishers willing to sell their own medal online, but finding 17 in one place has raised suspicions. When DNAinfo asked NYRR if the organization had authorized anyone to sell the medals, their spokesperson said, "Absolutely not, the medals are for finishers only."  
There are currently ten medals still available on the seller's page.