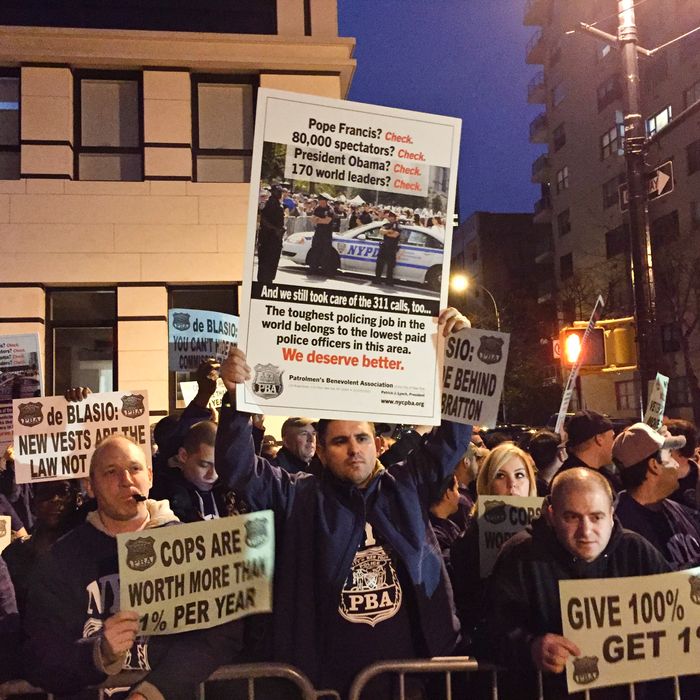 "If 1 percent worked for other unions, it doesn't work for New York City police officers," said PBA President Patrick Lynch.
Photo: Michael Balsamo/© Corbis. All Rights Reserved.
Mayor Bill de Blasio's relationship with the NYPD wasn't great to begin with, and now officers are furious at the mayor over a proposal that would give them a retroactive raise of just one percent. About 400 members of the Police Benevolent Association protested outside Gracie Mansion on Wednesday night, chanting "de Blasio — One Time Mayor," "Blue Lives Matter," and "de Blasio Sucks," according to CBS New York. "New York City police officers give a hundred percent. We have lost eight New York City police officers since the expiration of our contract. Their lives mattered. Their lives are worth more than one," said Patrolmen's Benevolent Association president Patrick Lynch.
NYPD officers haven't had a contract since 2010, and recently the PBA took its case to a state arbitrator after talks stalled with the de Blasio administration. The Associated Press reports the proposed contract would give officers a one percent retroactive raise for August 2010 to July 2012, but the city and the union would still need to work out an agreement that covers the last three years, and future raises. Last week thousands of officers protested outside the Upper East Side home of arbitrator Howard Edelman.
De Blasio has said he's willing to continue negotiating with Lynch, but he must agree to a contract similar to those his administration has worked out with other uniformed unions, including those representing NYPD detectives, lieutenants, and captains. "We try to create fairness for everyone," de Blasio said Wednesday. "And that's why you saw so many of the uniform unions agree to the pattern we put forward. And it wasn't just their union leaders — their rank-and-file voted for it over and over again. So we believe it's fair."
Police Commissioner Bill Bratton said the current situation is Lynch's fault for taking the case to an arbitrator. "He rolled the dice and he lost on this roll of the dice," he said. Despite the protests, Bratton says he still thinks morale within the NYPD is good.