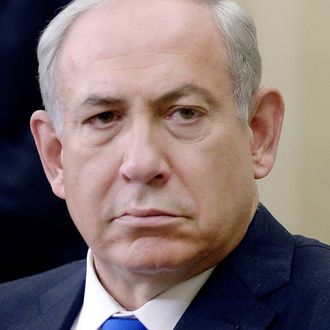 Not thinking about the Iran deal, nope.
Photo: Pool/Getty Images
Relations between Israeli prime minister Benjamin Netanyahu and President Obama have been decidedly awkward and tense in recent months, particularly after the two leaders disagreed so sharply over the Iran deal. But the two appeared to be ready to make up, or at least start trying to work past their differences, when Netanyahu met Monday with Obama in the Oval Office.
This was the first White House meeting between the two in more than a year. Each acknowledged the friction between the two countries, while also pointing out the areas where Israel and the United States had mutual goals. "It's no secret that the prime minister and I have had a strong disagreement on this narrow issue," Obama told reporters. "But we don't have a disagreement on the need to making sure Iran does not get a nuclear weapon, and we don't have a disagreement about us blunting destabilizing activities in Iran that may be taking place."
Netanyahu did not mention the Iran deal — which was officially adopted last month — directly, but he did say he was thankful for the "opportunity to strengthen our friendship, which is strong, and strengthen our alliance, which is strong." Netanyahu went even farther to say that he was still committed to resolve the Israeli-Palestinian conflict and to the "vision of peace" of a two-state solution, despite the failures of the previous peace talks, with which Secretary of State John Kerry and the White House were involved. "We'll never give up our hope for peace," the prime minister said.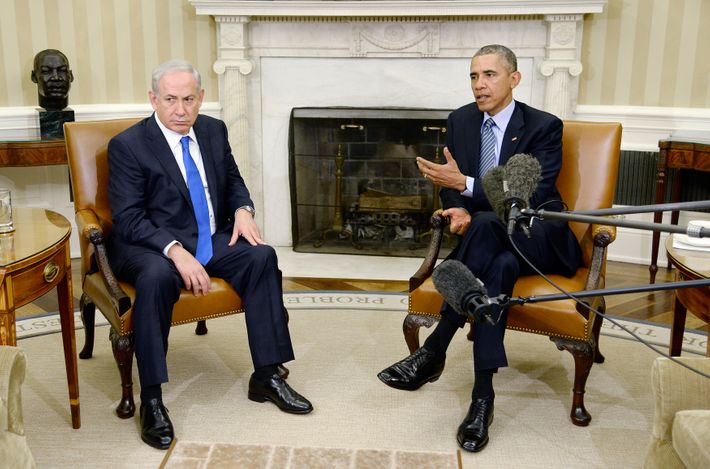 In turn, Obama condemned the recent violence in Israel, including the spate of knife attacks on Israeli citizens. "It is my strong belief that Israel has not just the right but the obligation to protect itself," he said. 
The prime minister and Obama would wrap up their public display of trying to get along and eventually meet behind closed doors, where, according to the Times, one of the subjects up for discussion was the U.S. military aid package for Israel, which is supposed to expire in 2017.