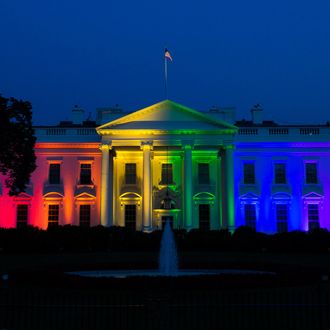 The White House is illuminated with rainbow light on June 26, 2015.
Photo: Drew Angerer/CNP/AdMedia
President Obama is on the cover of Out this month as its ally of the year, making him the first sitting president to ever appear on the cover of an LGBT magazine. 
The word proud came up a few times in the interview. The president said he was "proud and happy" when the Supreme Court decision on same-sex marriage was announced. "I was proud to say that love is love," he added. He also said that he was proud "as president, and as a dad" about how young people approach the issue of LGBT equality. 
To Malia and Sasha and their friends, discrimination in any form against anyone doesn't make sense. It doesn't dawn on them that friends who are gay or friends' parents who are same-sex couples should be treated differently than anyone else. That's powerful. My sense is that a lot of parents across the country aren't going to want to sit around the dinner table and try to justify to their kids why a gay teacher or a transgender best friend isn't quite as equal as someone else. That's also why it's so important to end harmful practices like conversion therapy for young people and allow them to be who they are. The next generation is spurring change not just for future generations, but for my generation, too.
It's a sentiment he's shared before; back in May 2012, when he first announced support for marriage equality after Vice-President Joe Biden spontaneously signaled his support in a television interview, Obama told Robin Roberts, "You know, Malia and Sasha, they have friends whose parents are same-sex couples. There have been times where Michelle and I have been sitting around the dinner table, and we're talking about their friends and their parents and Malia and Sasha, it wouldn't dawn on them that somehow their friends' parents would be treated differently. It doesn't make sense to them and, frankly, that's the kind of thing that prompts a change in perspective."
Pew Research Center data from earlier this year shows that 73 percent of millennials support same-sex marriage; 82 percent of young Democrats support it, as do 59 percent of young Republicans. Fifty-nine percent of young people said the issue of same-sex marriage was very or somewhat important. 
In the Out interview, Obama was also asked to say something to the "Kim Davises of America."
"I am a man of faith and believe deeply in religious freedom, but at the end of the day, nobody is above the rule of law," Obama said. "Especially someone who voluntarily takes an oath to uphold that law."